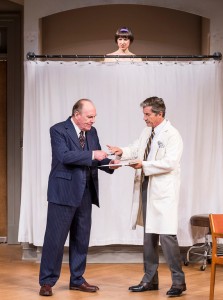 Paxton Whitehead, Sarah Manton and Charles Shaughnessy (all photos by Craig Schwartz)
There are no butlers in Joe Orton's farce, What the Butler Saw, but there is plenty to see and plenty to laugh about. Joe Orton was the comedic thrust of the Angry Young Man movement in British theatre in the late 1950s/early 1960s. While John Osborne, Harold Pinter, David Storey and others were doing the heavy dramatic lifting, Orton was proving that class distinctions could also tickle the funny bone. His opportunistic leather clad hustler in Entertaining Mr. Sloane and his bisexual bank robbing coffin desecrators in Loot were just the beginning of his comic madness. His genius really came together for his anti-psychiatry farce What the Butler Saw. He could have been the next Oscar Wilde but unfortunately he was bludgeoned to death by his estranged lover before Butler ever opened. There was no chance for rewrites but none were necessary as far as this reviewer is concerned. Butler is a masterpiece—nearly every line is a comic gem. You begin to dread laughing because you might miss the next line and it might be even funnier.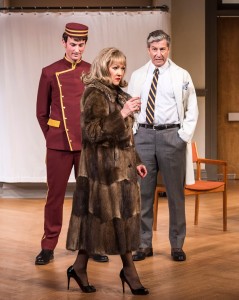 Angus McEwan, Frances Barber and Charles Shaughnessy
It's morning and the assured Dr. Prentice (Charles Shaughnessy) is interviewing the young Geraldine Barclay (Sarah Manton) for the position as his secretary at a private psychiatric clinic. She thinks it's a bit odd when he asks her to undress but it's her first interview out of secretary school. While she is naked behind a curtain, the drunk and nymphomaniacal Mrs. Prentice (Frances Barber) arrives in need of a drink and stating she was nearly raped by a randy bellboy in a hotel where her lesbian coven was meeting. That barely covers the show's first ten minutes. The bellboy Nicholas (Angus McEwan) arrives with blackmail photos—he doesn't want money, he wants the job as secretary. Dr. Rance (Paxton Whitehead) from the National Health arrives unexpectedly for an inspection. Then Sergeant Match (Rod McLachlan) of the local constabulary arrives looking for Geraldine and a missing appendage from a statue of Winston Churchill which exploded recently killing Geraldine's mother. Everyone lies to cover up their true peccadilloes more and more unsuccessfully.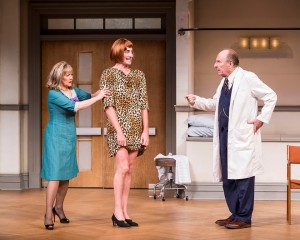 Frances Barber, Angus McEwan and Paxton Whitehead
Many mistaken identities, sexual misadventures, and hysterical meltdowns later everything is settled but you won't find the answers here. See this laugh-a-second production for yourself. John Tillinger has directed at a breakneck pace. He is defeated a bit at times by James Noone's sterile set design which is too wide for some of the in and out the door swiftness that makes a farce really run riot. Laurie Churba Kohn's costumes are a major plus—several of the dresses have to fit many different actors and they do seamlessly.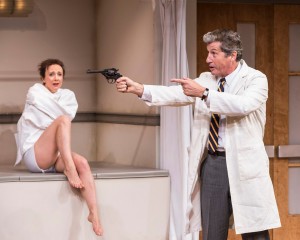 Sarah Manton and Charles Shaughnessy
The cast is perfection. Shaughnessy keeps his cool and aplomb while all around him disintegrates. Whitehead is a comic master, his every line reading is perfection and his sense of befuddlement becomes a sense of entitlement. McEwan bravely goes the Full Monty and delivers the laughs even when fully clothed. Manton slowly loses her sanity providing plenty of laughs while doing so. Barber comes across as too mannered at times but her lust is vibrant. McLachlan adds great support as the stolid copper.
Mark Taper Forum, 135 N. Grand Ave. in Los Angeles. Ends Dec. 21. 213-628-2772 or www.centertheatregroup.org