The 1984-85 UK miners' strike was considered by the BBC to be "the most bitter industrial dispute in British history." The British coal industry had been nationalized in 1947 but Prime Minister Margaret Thatcher and her Conservative Party decided to downsize the industry by closing 70 pits, unemploying tens of thousands of men. The National Union of Mineworkers went on strike, for over a year, before finally capitulating to the government closures. It is against this background that playwright/lyricist Lee Hall and composer Elton John set their Billy Elliot The Musical in 2005. McCoy Rigby Entertainment and director Brian Kite have mounted a stellar Southern California regional premiere of the show at the La Mirada Theatre.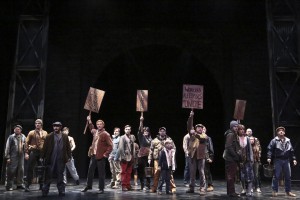 The miners on strike in Billy Elliot (all photos by Michael Lamont)
The genius of Hall's book is that it looks at the strike from the personal viewpoint of a family of miners in a small town in Northeast England. The townspeople depend on the coal mine for their living and their grim lives become even grimmer with the strike. And for generations, a life in the mines was the only future for their children. But motherless Billy (Mitchell Tobin) sees a way out when he trades in his boxing gloves and his Da's 50 pence a week for ballet shoes and dance lessons.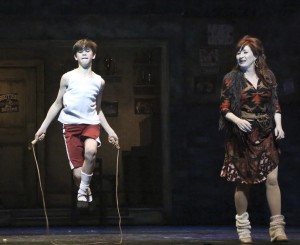 Mitchell Tobin and Vicki Lewis
With the encouragement of his acid-tongued teacher Mrs. Wilkinson, Billy proves to be a natural talent and he is soon preparing to audition for the Royal Ballet School in London. His father (David Atkinson) and older brother (Stephen Weston) are violently opposed at first but with reassurance from his Grandma (Marsha Waterbury) and from a letter his Dead Mum left him, Billy perseveres. His young cross-dressing friend Michael (Jake Kitchin delivering a comic gem of a performance not marred by caricature) inspires Billy to enjoy "Expressing Yourself." Their exuberance lights up the gloom of their coal dust grimy environment.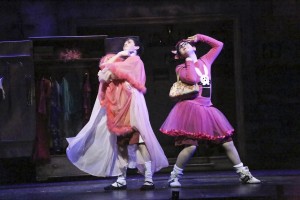 Mitchell Tobin and Jake Kitchin
Director Kite has gotten marvelous performances from every member of his cast of 40. There isn't a wrong note sounded throughout the evening and the pathos and comedy are deftly blended to divine results. Vicki Lewis as the dance teacher sparkles down to her leg warmers as she cheers on her little ballerinas to "Shine." She becomes a surrogate mother for Billy though he still sees his Dead Mum (Kim Huber in a small but poignant turn) in times of need. Waterbury shines in her flashback number, "Grandma's Song." Jamie Torcellini provides comic relief, especially in drag in the Act Two opener, "Merry Christmas, Maggie Thatcher." The men are all solid and stoic and their voices meld beautifully in such group numbers as "The Stars Look Down," "Solidarity," and "Once We Were Kings." The score soars from the eight-piece orchestra led by musical director John Glaudini.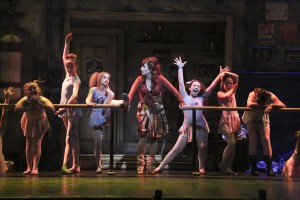 Vicki Lewis and her tiny ballerinas
The tech aspects of the show are all sublime—Stephen Gifford's scenic design, Steven Young's masterful lighting, Josh Bessom's crystal clear sound design and Ann Closs-Farley's costumes. Dana Solimando's choreography is transcendent, mostly as interpreted by fourteen year old last minute replacement, Mitchell Tobin as Billy. Tobin's dancing is awe-inspiring as he twirls around the stage–leaping, jumping, soaring. His acting prowess is just as sharp and Billy's joy at discovering his true calling is as the song states, "Electricity." He is greatly aided by Brandon Forrest as Adult Billy in a beautifully executed pas de deux to Tchaikovsky's music from Swan Lake. It is truly a scene of theatrical magic. But then this entire production of Billy Elliot is pure magic.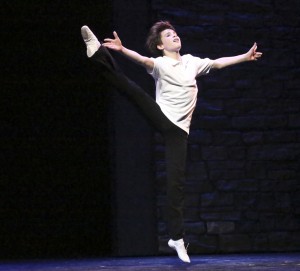 Mitchell Tobin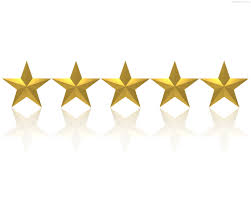 La Mirada Theatre for the Performing Arts, 14900 La Mirada Blvd in La Mirada. Ends February 8. 562-944-9801 or 714-994-6310 or www.lamiradatheatre.com.