It is always great when a local theatre company revives a classic musical and does it very well. That is what is happening right now on stage at the Ray & Janet Scherr Forum in Thousand Oaks. Cabrillo Music Theatre producer Lewis Wilkenfeld, director Nick DeGruccio and their cast and crew are creating magic by bringing Stephen Sondheim and George Furth's scathing look at New Yorkers and their marriages circa 1970 to vibrant life. Company was the first of Sondheim's trifecta (Follies and A Little Night Music followed) of best score Tony Awards from 1971-73. Company is given credit for ushering in the era of the "concept musical." All I know is my life was forever changed when I saw the National Tour at the Ahmanson Theatre in 1971. "Phone rings, door chimes, in comes Company," indeed.
I have probably seen around 20 different productions of the show in the past four decades. Everything from college and community theatre to big scale productions, including one in Prescott, Arizona in 1983. Company is a very difficult show to mount and can go wrong so easily. I saw a professional but strictly amateurish production at the long gone Gene Dynarski Theatre also in 1983. Herb Rogers produced a stellar outing in La Mirada in 1988 featuring a cast that included David Ruprecht, Teri Ralston, Robert Yacko, Marsha Kramer, Patty Tiffany and the best April ever, Heather Lee. At the Wilshire-Ebell, I witnessed an inept attempt to modernize the show to the 1990s with an African-America leading man and Michael Jackson references. I saw a badly miscast Carol Burnett try to master the bitter cynicism of Joanne, an amazing character first brought to life in a legendary performance by the equally legendary Elaine Stritch. By far the best production outside that original tour in 1971, which featured most of the original Broadway cast including Stritch and the amazingly talented Barbara Barrie, Donna McKechnie, Pamela Myers, Teri Ralston and starred George Chakiris, was the 1975 Long Beach Civic Light Opera production. It won several of my Robby Awards, then in only their second year, including Best Musical, Best Director Gary Davis, Best Actor Gary Krawford, Best Supporting Actress Nancy Bond and Best Scenic Design Byron Bauers. If the Robby had tie votes in those early years, Lisa Robinson would have been appropriately acknowledged as the best Amy ever.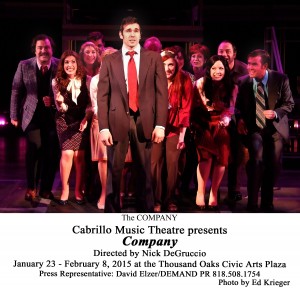 This newest Company ranks among the very best. Director DeGruccio has gotten his cast to dig deeply into these characters. They get their laughs but they also reveal the true emotions hiding under their sophisticated "I'm a New Yorker" veneer. Alxander Jon makes a solid center as 35 year old bachelor Robert, the center of the show, surrounded by his five married coupled friends. He deftly shows the ambiguous nature of "Bobby," the man supposedly longing for married bliss but still happy to play the field and remain forever single. Should he give in to the urge to marry like his friends, who upon closer examination don't seem to be that happy together, or should he chart his own course? Jon's solos of "Marry Me A Little" and "Being Alive" are beautifully enacted and show his conflicted dichotomy.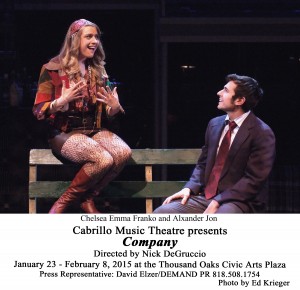 The females get the best moments both in Furth's prose and in Sondheim's lyrics and the women in this cast really excel. Bobby's three "dates" marvelously harmonize their way through "You Could Drive A Person Crazy" as well as each getting wonderful moments of their own. As Kathy, Aly French has a heart-breaking scene where she tells Bobby she's leaving NYC to marry and they both sort of confess they wanted to marry each other but neither ever got around to asking. Chelsea Emma Franko does her show stopping best with the tongue twisting "Another Hundred People" and brings a delightfully honest quirkiness to her Marta. Jane Papageorge nails every laugh as the bubble-headed stewardess April whose wounded butterfly story gets her a flesh on flesh bedroom encounter with Bobby.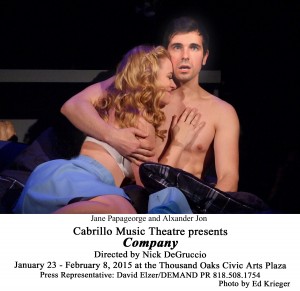 Tracy Lore is icy perfection as the older, richer, been there, done that Joanne. Her bitchy putdowns seem to be over the heads of most of these couples but she knows she's witty. Her cold hearted seduction scene is scary in its realness. Shelley Regner makes her frazzled suicidal bride-to-be Amy a gem. As Jenny, Heather Dudenbostel's soprano soars in "Getting Married Today" and she plays stoned very well. Elizabeth Eden as Susan is a charming Southern Belle while Elissa Wagner as Sarah proves a master at Ka-Ra-Te as well as sneakily scarfing brownies.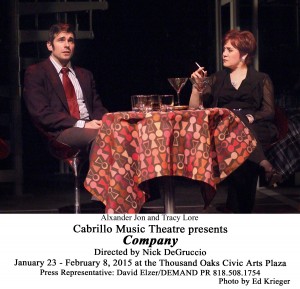 The men—Paul Babb, Michael Andrew Baker, James Padilla, Kevin F. Story and Nick Tubbs– splendidly blend their voices on "Sorry-Grateful" and "Have I Got A Girl For You." The nine-member orchestra makes the score soar under the musical direction of conductor Cassie Nickols while choreographer Cate Caplin has provided some lively steps for the cast. Tom Buderwitz's multi-level scenic design gives the show plenty of staging opportunities. Thomas Marquez has provided the appropriate period costumes while Jean-Yves Tessier's colorful lighting design pinpoints the action. And Jonathan Burke's sound design makes sure not a word, not a note, not a lyric goes muddled or unheard. See Company or be forever "sorry" and not "grateful" I told you so.


Ray & Janet Scherr Forum, 2100 Thousand Oaks Blvd. in Thousand Oaks. Ends Feb. 8. 800-745-3000.