It may have seemed like a good idea at the time. "Let's write a Broadway show. A musical version of Cyrano de Bergerac."
"It's been done before. Four times on Broadway alone."
"Yes, but the first was an operetta by Victor Herbert. Operettas were on their way out, even in 1899."
"Well there was the version by Anthony Burgess in 1973."
"But he was the writer of A Clockwork Orange. Besides Christopher Plummer was too Shakespearean to do a musical."
"Then there was another new musical version in 1993"
"But that was written by Dutchmen. What did they know about romantic Frenchmen."
"Well Frank Wildhorn's version hasn't even made it to the concept album stage yet."
"The first production ever on Broadway was a parody—Cyranose de Bric-a-Brac."
"Let's do our own parody. Let's make everyone Italian and set it during the gang wars in New York's Little Italy. And let's add a drag queen or two because it is 2015."
This reviewer isn't sure any of this was discussed when book writer/lyricist Madeline Sunshine and composer Robert Tepper came up with their show Serrano The Musical. But anything is possible as witnessed in the production of their show receiving its World Premiere on the stage of the Matrix Theatre in West Hollywood. There is a gaggle of producers involved, a lot of money has been spent, there are a lot of talented performers on stage yet it doesn't take a nose like Serrano's to smell flop sweat. Everyone is working too hard and you just wish they had better material to work with.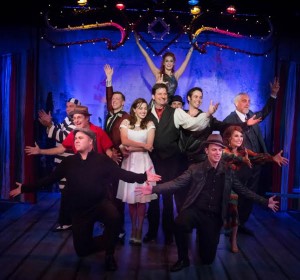 The cast of Serrano the Musical (all photos by Brian McCarthy)
Serrano is set during the Feast of San Gennaro in Little Italy. Three Hoods and a Nun (James Tabeek, Tom G. McMahon, Craig McEldowney and Valerie Perri)–probably the best visual gag in the show– introduce the characters. Sensitive Serrano (Tim Martin Gleason) is a poet and a hit man for Don Reyo (Peter Van Norden), who is cursed with a slutty daughter Lily (Perri again) and a gay son (Chad Borden). His foe is Don Malafonte (Matthew Henerson) and both are tasked with trying to get the honest Judge Spumonte recused from a case that could be detrimental to the Boss of Bosses. Don Reyo wants Serrano to make a gentleman out of his Jersey lady killer nephew Vinnie (Chad Doreck) so he can boff the judge's virginal and intellectual daughter Rosanna (Suzanne Petrela). Serrano has been in love with Rosanna since childhood but afraid to tell her for fear she would reject him for his prodigious proboscis.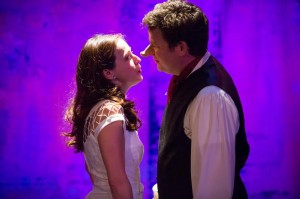 Suzanne Petrela and Tim Martin Gleason
In the program notes director Joel Zwick states he, Sunshine and Tepper have been working nearly five years developing and growing the show. The show has been overdeveloped and the growth needs to be cut back drastically. There are 26 songs, including 3 reprises, in this overlong show. The general rule of thumb in writing a song is either to advance the plot or the characters have reached a point where their emotions can't be expressed in mere words so they must sing. That happens very rarely here. Instead people sing because it's been about five minutes since anybody else sang. Case in point—drag queen Nickie's two songs (performed full out by a fearless Borden)—"Diddle Me" and "I'm Hot," the latter staged by choreographer Peggy Hickey to come across as La Cage Aux Cats. Sophia (Perri again), Rosanna's pony and Tanqueray loving mama counsels her to "Be A Broad," a song whose melody left me humming the classic Cole Porter tune "Be A Clown" from the Judy Garland/Gene Kelly flm The Pirate. There are a few other songs that sound like more famous songs while most of the songs just sound the same. There are two standout numbers—"Rosanna" and "Day In, Day Out," both sung beautifully by Gleason. He has a glorious singing voice but his acting misses the wit, charm and poetry of his character, although admittedly he is given less to work with here than Rostand gave the original Cyrano.
Sunshine's bio states she has written children's books, YA fiction and books and songs for Sesame Street. She seems to be rebelling against her previous career with her expletive laden script and lyrics. The lowest form of bathroom humor is what passes for wit in her characters. Sunshine has given Rosanna a mother and also given Serrano a father. The latter obviously just to have the Act One closer "The Nose" sung by Papa and a group of barefoot monks. Papa also is there as the reason this modern times Serrano has not seriously considered rhinoplasty. And not only are the parents a new twist on the tale, so is the happily ever after ending for Serrano and Rosanna.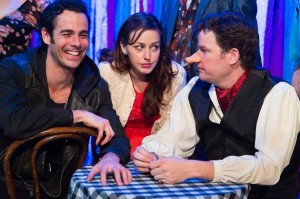 Chad Doreck, Suzanne Petrela and Tim Martin Gleason
Petrela is charming and delivers the fun number "Bad Boy" after she experiences "love at first sight" seeing the leather clad Vinnie ride in on his "motorcycle," another nice visual gag. Doreck steals the show as Vinnie. He may not be blond and drop dead handsome but he does dumb better than most. And he does it delightfully endearing. Perri, Borden, Van Norden, Barry Pearl and the entire cast give the material their all. Again you just wish the material was worth their commitment.

Matrix Theatre, 7657 Melrose Ave. in West Hollywood. Ends March 29. 323-960-7774 or www.serranothemusical.com