Jerome Kern wrote the music for over 700 songs in his forty plus year career–for the Broadway stage, for movie musicals and for the popular music of the first half of the twentieth century. We couldn't expect producers Bruce Kimmel and Adryan Russ to fit even a fifth of them into the Kritzerland show at Sterling's Upstairs at The Federal on February 2. The 22 songs they chose for All The Things You Are: The Songs of Jerome Kern displayed a wide range of tunes by Kern and his many collaborators—lyricists Oscar Hammerstein II, E.Y Harburg, Ira Gershwin, Dorothy Fields, Johnny Mercer, P.J Wodehouse, Guy Bolton, Otto Harbach and more. There were novelty tunes like "Bungalow in Quogue," and "Up With The Lark" as well as Great American Songbook standards like "The Folks Who Live on the Hill" and "I'm Old Fashioned."
Kimmel did his usual exhaustive and very entertaining background narration on the songs, the shows, the original performers. Where else could you have found out about the career of French actress/singer/violinist Odette Myrtil? Or hear composer John Michael LaChiusa and clog dancing referenced in the same sentence.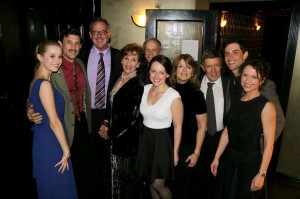 The producers, musical directors and cast (photo by Karen Staitman)
Kimmel also gathered together a great cast of singers who could perfectly bring each tune to life. Madison Claire Parks shone brightly in all three of her appearances but it was her soaring soprano during her rendition of "Make Believe" that brought down the house. If any enterprising producer is thinking of reviving Show Boat, they can start by casting Parks as their Magnolia. Kimberly Hessler also displayed a lovely soprano with "I Dream Too Much" and showed versatility in her other numbers. Damon Kirsche proved he's one of the Southland's smoothest crooners with the put-together of "All The Things You Are" and "Long Ago And Far Away." He also got to swing a bit with the finale put-together of Fred Astaire numbers–"I Won't Dance" and "Never Gonna Dance."
Jean Louisa Kelly had fun with "Cleopatterer" from the 1917 musical Leave It to Jane and broke your heart with her haunting turn with "Yesterdays" from 1933's Roberta. Jeffrey Christopher Todd showed his comic chops with "She Didn't Say Yes" and his crooning talents with "The Way You Look Tonight." John Boswell on piano gave great accompaniment to them all and had his own special Boswell moment in the spotlight when he strung together songs that were Unsung during the evening.
Special Guest Andrea Marcovicci brought her own accompanist, Shelly Markham, and did two Kern tunes. She did the very funny "My Husband's First Wife" from the 1929 musical Sweet Adeline and explained how the lyrics to the song came to be written by supporting cast member Irene Franklin because lyricist Oscar Hammerstein II was spending all his time writing songs for leading lady Helen Morgan. Marcovicci also did a lovely turn with the classic "Smoke Gets in Your Eyes."

Next month Kritzerland will be saluting the Birthday Boys, two of musical theatre's top composers who share the same birthday, March 22. The clash of the titans will feature songs by both Stephen Sondheim and Andrew Lloyd Webber. Kevin Early, in town for pilot season and a March 30 concert at Sterlings, will be part of the cast. 818-754-8700.