Pulp writer and adventurer L. Ron Hubbard founded the Church of Scientology in 1953. Is it a legitimate religion or a cult of fanatics? You will get different points of view from such celebrities as Tom Cruise, John Travolta, Kirstie Alley, Leah Remini, Nicole Kidman, Katie Holmes and Paul Haggis. The latter four have left the church with varying degrees of bitterness or silence. Playwright Allen Barton has also left the church and his new play, Disconnection is a scathing look inside the workings of this worldwide phenomenon. You can barely walk anywhere in Hollywood without seeing some sign of them, whether it is their name on numerous buildings or their members walking around in their pseudo military uniforms.
Barton exposes the doublespeak of the religion—auditing, transgressions, disconnect, staff, rehabilitation. In his play, a religion. similar to but not named as Scientology, is explored by 48 year old lawyer Landon (Jay Huguley double cast in the role with Bo Foxworth). Landon wants to explore his music abilities that he abandoned at an early age because of parental pressure. A traffic accident four years earlier left him a widower and estranged from his daughter. She joined the church at 16 and is a valued member of Staff, overseeing special projects. Landon takes piano lessons from Michel (Dennis Nollette), a long time church member who was also a very close friend of the founder Oldman (Robert L. Hughes). But when Landon takes on a wrongful death law suit against the church, Michel is given orders to disconnect (sever all ties) from Landon, a friend who helped him through financial hard times when the church did not.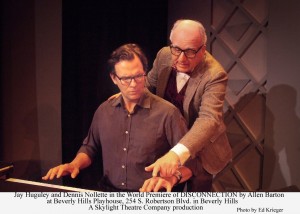 Meanwhile Landon's daughter Tara (Carter Scott) is having her own problems with church dogma. Even though she is married to fellow Staff member Nick (Luke Cook), as Staff she is not allowed to have children. When she finds herself pregnant, she decides to leave the church and wants Nick to do the same. Nick doesn't have as big an issue with church policy or their dubious financial money grubbing and refuses to leave. Tara, a trusted personal assistant to the dictatorial Chairman of the Board (Everette Wallin) is vehemently denounced by the COB and scheduled for a mandatory abortion. Meanwhile the COB has sentenced Nick to rehabilitation.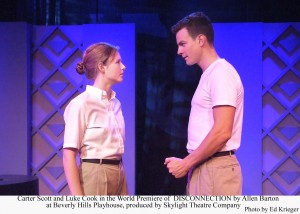 Barton has written an interesting play but it needs trimming. Most scenes just drag on too long, losing their focus. This is especially true of the opening scene where Landon, Tara and Michel are all seen listening to one of Oldman's 1000 plus lectures, each taking their own meaning from it. Joe Polis' direction is lackadaisical and needs more oomph. The performances are also very laid back, good but not all that distinguished. The only actor to really seize his character and bite fiercely into the language and emotions of the piece is Wallin in his one scene as the COB.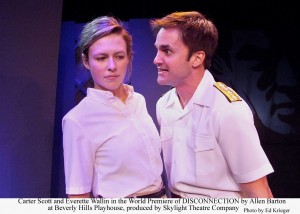 Skylight Theatre Company at the Beverly Hills Playhouse, 254 S. Robertson Blvd. in Beverly Hills. Ends March 1. 213-761-7061 or http://skylighttix.com