I am not sure what other new plays made their New York debut in 2012 but Stephen Karam's Sons of the Prophet won many awards and was a Pulitzer Prize finalist. From what I saw on stage at The Blank Theatre's Los Angeles Premiere of the work, I can only assume it must have been a very thin year for playwriting. Or else HBO style sitcom writing is the new standard for young playwrights. The play and production are not without merit but the New York praise seems overblown to this viewer. Karam has written thin stereotypes rather than full-fledged characters. He always takes the easy way for a joke at the expense of characterization. There are some good laughs but the result is more of a dark sitcom than a black comedy. Director Michael Matthews seems at a loss as how to stage the show to give a better balance to the piece. Rachel Watson's cluttered set design looks like a junk store at first glance but easily transitions to many and varied locations.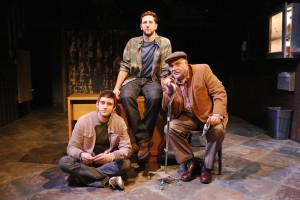 Braxton Molinaro, Adam Silver and Jack Laufer (all photos by Anne McGrath)
The Lebanese Saint Rafqa suffered a variety of ailments before her death in 1914. The Maronite Christians of Lebanon refer to her as the Patron Saint of Suffering. Joseph Douaihy (Adam Silver) has been suffering a lot lately. The former champion runner and Olympic hopeful has been reduced to wearing knee braces to help alleviate his pain. A series of ever more expensive and exhaustive tests point to something more "global" going on with his 29 year old body. He has recently suffered the loss of his father who was in a freakish car accident with a statue of a high school mascot. He died in the hospital of a heart attack a week later but it may have been as a result of his sky high cholesterol. Joseph's teenage brother Charles (Braxton Molinaro) was born with one ear though corrective surgery has given him the semblance of another if not the hearing ability. Joseph's cantankerous and religious uncle Bill (Jack Laufer) moves in with his nephews when a bad hip and a fall place him in a wheelchair. Oh, and both boys are gay and have lackluster love lives.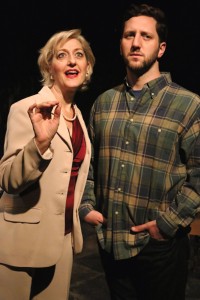 Tamara Zook and Adam Silver
Joseph has taken a job as assistant to Gloria (a really terrific Tamara Zook), a scatter-brained book packager, for the full medical insurance coverage it offered. Gloria has her own tale of woe, having recently moved from New York City to small town Nazareth PA because her husband wanted to be closer to his family. He more recently committed suicide leaving her alone and estranged from his family. She had a fall from grace in the publishing biz after editing a Holocaust memoir that turned out to be a fake. She latches onto Joseph and his family when she discovers they are distant relatives to Kahlil Gibran, still one of the world's top selling authors due to his book The Prophet. She thinks she's found a way to redeem her career. Football star Vin (Mychal Thompson) was responsible for the prank that resulted in the car accident but a judge has delayed his time in juvenile lockup until after the upcoming championship football game. Vin needs to play in order to guarantee him a college scholarship so he hopes his public apology to the family at a town meeting will absolve him.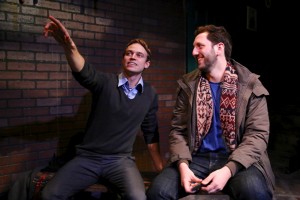 Erik Odom and Adam Silver
The one seemingly bright spot in Joseph's life is the mutual attraction to the gay TV newsman Timothy (Erik Odom), in town to cover the town meeting. But career takes precedence over lust and love there. Ellen Karsten and Irene Roseen add some comic fun as two old biddies in charge of the town meeting. Roseen also brings a sense of realness and compassion to the play in its final scene. She is a former teacher of Joseph's that shares a physical therapy session with him. If Karam had given his other writing and characters as much depth and humanity, Sons of the Prophet would be a much fuller experience.

The Blank Theatre, 6500 Santa Monica Blvd. in Hollywood. Ends May 17. 323-661-9827 or www.theblank.com.