Who would ever conceive of writing a sung through musical based on Homer's epic poems The Iliad and Odyssey? Lyricist John La Touche did and in 1954 his and composer Jerome Moross' The Golden Apple opened off-Broadway. It was a critical favorite and became the first off-Broadway production to be moved to Broadway, where unfortunately it was not a commercial hit. The entire score has never been recorded and there have been very few productions of the show in the past 60 years. Musical Theatre Guild, which produces five staged concert versions of rarely seen musicals every year, presented it at the Moss Theatre on February 8.
The Golden Apple is a very strange show. If it were an animal it would be a platypus. Where that animal has various parts resembling a duck, an otter and a beaver, La Touche combined the Spanish American War, the 1929 Stock Market Crash as well as space rockets in his retelling of the stories of Helen and Paris, Ulysses and Penelope. Moross' score is equally eclectic featuring marches, waltzes, soft shoe, ballet and jazz among other forms of American pop music. With over 500 pages of music to get through, the onstage band led by musical director Richard Berent was kept occupied every moment of the evening.
La Touche set the action in the mythical town of Angel's Roost, near Mount Olympus in Washington State at the turn of the Twentieth Century. The townsfolk welcome home Spanish American War hero Ulysses and his men. Ulysses vows to remain home, close to his beloved wife Penelope, but she knows he's a wandering soul. He and his men soon get a chance for more adventure after Helen, the rich but older Menelaus' young, restless wife, flies off with traveling salesman Paris in his hot air balloon. She was aided and abetted by a prophecy from the bitter Mother Hare as well as a rigged baking contest and a charm delivered by the wily Lovey Mars. Ulysses easily defeats Paris in man to man combat and a repentant Helen returns home with Menelaus. But Ulysses and his men are tempted to experience the wonders of the big city and the Mayor and townspeople of Rhododendron are out for revenge. It takes Ulysses ten long years to get through the perils of Calypso, the Sirens, Scylla and more before he can return to Penelope.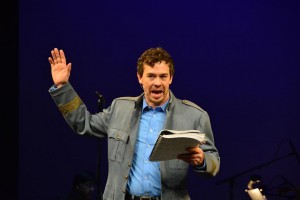 Zachary Ford as Ulysses (all photos by Alan Weston)
As usual, MTG has assembled the best singers in Southern California musical theatre, this time a larger than usual cast of 24. Director Michael Van Duzer kept the action flowing and interesting in his simple but strategic staging. The score only has one classic song, the jazzy "Lazy Afternoon." Melissa Fahn oozed sex and sensuality as she slyly seduced Paris (a non-speaking all dancing role choreographed and performed by Mark C. Reis) with it. Fahn was delightful as the spoiled, flirtatious and much sought after Helen. Teri Bibb's lovely soprano made Penelope's solos "My Love is On the Way" and "Windflowers" a marvel to the ear. Her heartfelt performance of the stalwart and faithful wife was finely nuanced. Zachary Ford's booming voice gave Ulysses the strength and stature a hero deserves. He created strong impressions with "It Was a Glad Adventure" and "Store Bought Suit" but it was his duets with Bibb on "It's the Coming Home Together" and the finale "We've Just Begun" that really shined.

Carol Kline as Mother Hare
Carol Kline stole her every scene as the merry trouble-making witch Mother Hare but it was her hilarious turn as the temptress Circe that brought down the house with "The Wrong Side of the Tracks." Perry Lambert and Roy Leake, Jr., really delivered the fun with their vaudevillian soft shoe to "A Brokerage Office." Doing terrific double duty as Angel's Roost baking contestants and Madame Calypso, a Siren and a Scientist were Eileen Barnett, Jennifer Bennett and Kelly Lester, respectively.

Next up for MTG will be Gentlemen Prefer Blondes, Sunday, April 12 at the Moss Theatre in Santa Monica. 818-848-6844 or www.MusicalTheatreGuild.com.