The tragic tale of star-crossed lovers Tristan and Isolde predates Lancelot and Guinevere, Abelard and Heloise, Romeo and Juliet, Rocky and Adrian, Kermit and Miss Piggy. Composer Richard Wagner immortalized them in his 1865 opera. James Franco and Sophia Myles brought them to life in a 2006 film. And now the British Theatre Company Kneehigh has brought their story to the main stage of South Coast Repertory.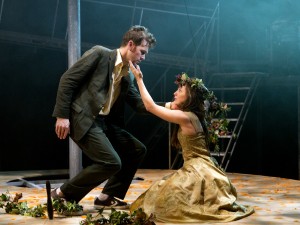 Dominic Marsh and Hannah Vassallo(photos by Richard Termine)
Kneehigh's Tristan & Yseult, written by Carl Grose and Anna Maria Murphy and adapted by Emma Rice, is set in The Club of the Unloved. Bill Mitchell's costumes and the pre-show and entr'acte music by the on stage band sets the period in the 1950s. Whitehands (Kirsty Woodward) takes a Story Theatre approach to the tale, with a small but very talented cast enacting the various roles.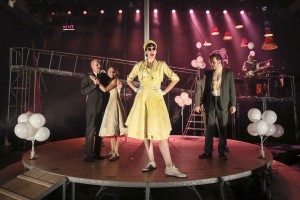 Kirsty Woodward and cast
The basics are there—a Frenchman Tristan (Dominic Marsh) becomes King Mark's (Mike Shepherd) hero when he fights and defeats the Irish invader Morholt (Niall Ashdown). From his dead foe, King Mark takes a locket containing a lock of auburn hair and decides to make that woman his bride and Queen of Cornwall. A still wounded Tristan sets off for Ireland. It turns out Yseult (Hannah Vassallo) is a whiz at healing and heals Tristan before he tells her her fate. A love potion is prepared for Yseult to take with King Mark so that she will love a man she's never seen. But the bottles get mixed up and Tristan and Yseult drink the potion and fall madly in love. There is great staging of this passionate, sensual, joyous and sexual scene by Emma Rice, whose innovative direction is a plus throughout.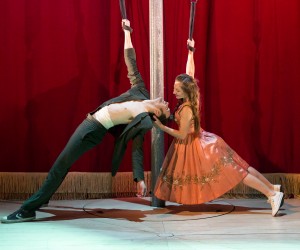 Dominic Marsh and Hannah Vassallo
More complications ensue when Yseult does find she loves King Mark, although in a different way than her passion for Tristan. With the help of her maid, Brangian (Ashdown again), she gets through her wedding night without a scandal. But King Mark's former number two, Frocin (Damon Daunno), has it in for the illicit lovers and soon provides the king with proof of their adultery. Tristan is banished but true love never really dies.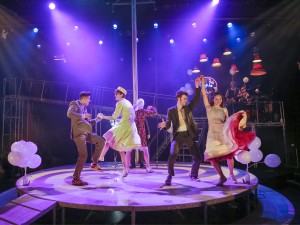 Damon Daunno, Kirsty Woodward, Dominic Marsh and Hannah Vassallo
This splendid cast and band run the gamut of comic and tragic emotions as well as delivering some exuberantly fun song and dance moments. Tristan & Yseult is a very unique theatrical experience that should not be missed.

South Coast Repertory, 655 Town Center Dr. in Costa Mesa. Ends Feb. 22 714-708-5555 or www.scr.org.