Carrie was prolific novelist Stephen King's first published work in 1974. The 1976 movie was a box office hit, with a budget of under $2 million and a gross of nearly $34 million. The film earned Oscar nominations for Sissy Spacek and Piper Laurie. There was a sequel in 1999, a TV movie version in 2002 and a remake in 2013–none of which had the same level of success. Then there was Carrie The Musical, the 1988 Broadway show that earned the reputation as the biggest flop in Broadway history (although that title now and forever rightly belongs to Spider-Man: Turn Off the Dark). The musical began its life in England, produced by the Royal Shakespeare Company, and starred Broadway legend Barbara Cook as Margaret White. When the show transferred to Broadway Betty Buckley (who for you trivia fans played the gym teacher in the film) replaced Cook but most of the British cast stayed intact. The show ran a total of five performance and earned horrific reviews. There have been several productions of the show around the country since the original, including an off-Broadway run in 2012. Now the La Mirada Theatre for the Performing Arts along with New York producers Bruce Robert Harris, Jack W. Batman and The Transfer Group are presenting the Los Angeles area premiere in director Brady Schwind's "all-new reimagined immersive production."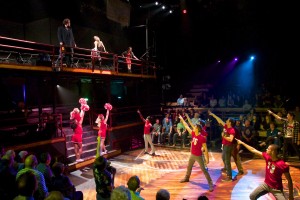 The high school kids (all photos by Jason Niedle)
Well it is not that immersive that you need to wear a raincoat to the prom to avoid pig's blood splatter but it is a very interesting and impressive staging of this flawed musical curiosity. The audience of less than 300 is seated in bleaches on the stage–four groups in "pods" are shifted about from time to time giving them a different view of the action as well as changing the configuration of the playing space. Unfortunately director Schwind stages a lot of his scenes with the actors sitting, kneeling, lying on the stage floor and for those seated in the stationary bleachers, the sight lines end up being blocked more often than not. But the look, sound and feel of the show make it a truly unique experience. Stephen Gifford's two-level scenic design easily conveys the musical's many settings with just a few carried-on pieces of furniture. And when the curtain rises on the "Springtime in Venice" prom setting, it is true stage magic. Brian Gale's lighting and projection designs are off the map fantastic. Cricket Myers' sound design puts you right in the center of the action. Adriana Lambarri's costumes—from football jerseys and cheerleader uniforms to prom dresses and religious garb with more layers than a Mormon or a Mennonite would be required to wear–are perfect. Paul Rubin choreographed the flying sequences and they are amazing—Peter Pan and Mary Poppins don't provide the thrills the flying bodies do here. Lee Martino's choreography is top notch, her young cast of high school kids seem to be in constant motion and those steps are never repetitious; instead they are constantly evolving as the action ratchets up. Musical director Brian P. Kennedy and his seven-piece off-stage band play the score full out.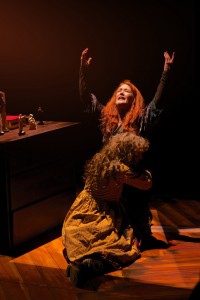 Emily Lopez and Misty Cotton as Margaret White
Yet at its heart Carrie The Musical is a very flawed piece of theatre. The main problem is Lawrence D. Cohen's book. Even though he wrote the original film, here his characterizations are very thin. Their subtext has been removed to make space for the musical numbers–more here, a total of 25 including the reprises as opposed to 20 in the original Broadway version. Film director Brian de Palma and his extremely talented young cast including Sissy Spacek, Amy Irving, William Katt, John Travolta, Nancy Allen and P.J. Soles were able to make their characters more full bodied—here they mostly remain cartoons. Emily Lopez gives a nuanced performance as Carrie White although some of her character's transitions occur too quickly but that is more the fault of the writing and directing than her acting. Misty Cotton takes religious fervor to new and very scary heights as Margaret White. She is on full throttle throughout in a no holds barred performance. Say your prayers she is not your mother. Kayla Parker as Sue, Jon Robert Hall as Tommy and Jenelle Lynn Randall as Miss Gardner each make the most of their moments. The balance of the cast is lively but don't have much material to work with.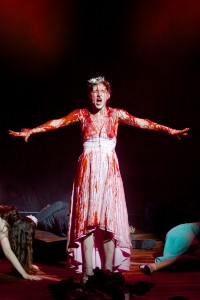 Emily Lopez as Carrie White
The show's score (music by Michael Gore and lyrics by Dean Pitchford) is schizophrenic. There are a few lovely ballads sung very well—"Unsuspecting Hearts" by Randall and Lopez and "Dreamer in Disguise" by Hall. Cotton tears through her over the top hysterical hellfire and damnation numbers such as "Open Your Heart," "And Eve Was Weak," and "I Remember How Those Boys Could Dance" with gutsy bravado. Then there are quite a few songs, mostly for Carrie's classmates, that feel more like recitative than actual lyrics and melody. Characters in musicals are supposed to sing when their emotions are too big for mere dialogue. But these songs are mere dialogue with underscoring and might be best served if eliminated or rethought. I'm not sure the problems with Carrie The Musical will ever be completely solved but this high tech production does manage to mask them quite well. It's a well done bit of theatrical legerdermain.

La Mirada Theatre for the Performing Arts, 14900 La Mirada Blvd. in La Mirada. Closes April 5. www.lamiradatheatre.com or 562-944-9801 or 714-994-6310.