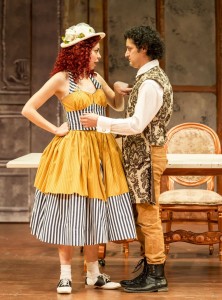 Angela Sauer and Jeremy Guskin (all photos by Craig Schwartz)
The Classical Repertory Theatre Company, A Noise Within, is currently presenting the West Coast Premiere of Charles Morey's Figaro, in repertory with Shakespeare's Julius Caesar and the Brecht/Weill musical The Threepenny Opera. The French playwright Beaumarchais wrote the original Le Mariage de Figaro in 1778, the second in a trilogy of comic plays about the subversive servant Figaro. Beaumarchais' plays are rarely performed today but operas based on his characters and written by the likes of Mozart and Rossini are the staples of opera companies around the world. Morey's work is not a new translation of the original French script, but rather an updated adaptation. And boy, is it funny!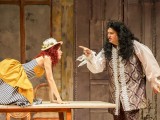 Angela Sauer and Andrew Ross Wynn
You don't have to be familiar with the plot ofThe Barber of Seville, in which Figaro and many of this play's characters first appeared. You are quickly brought up to date by Figaro (an always bemused and amusing Jeremy Guskin) in quick asides to the audience. The couple he schemed to get together in the first play, The Count Almaviva (a properly buffoonish Andrew Ross Wynn) and his Countess (an entrancing and graceful Elyse Mirto) have been married for four years, and though still in love, the passion seems to have waned. The Countess flirts shamelessly with her young godson, the Count's page Cherubin (a charming Will Bradley) while the Count forces his attentions on Fanchette (wide-eyed but not so innocent Natalie De Luna), the gardener's daughter. He is also thinking of claiming his "droit du seigneur" and having his way with the Countess' maid Suzanne (a wily and saucy Angela Sauer) on her wedding night before it is consummated by her husband-to-be Figaro. Figaro schemes to stop the Count as do the Countess and Suzanne separately. And the plot has just begun to thicken when the housekeeper Marceline (a shrewish Jeanne Sakata) calls in a loan she made to Figaro in an attempt to get him to marry her instead. She is aided in this scheme by Dr. Bartholo (a blustery Alan Blumenfeld) who holds a grudge against Figaro for stealing away his young ward and marrying her off to the Count. There is also a stuttering judge (Joshua Wolf Coleman), a comic trial and some spicy revelations before the final curtain and the happy ending.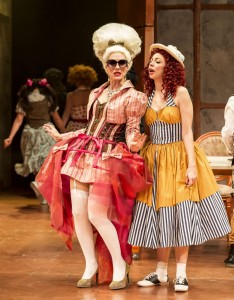 Elyse Mirto and Angela Sauer
All the trappings of the classic French farce are here (including five doors in Jeanine A. Ringer's gorgeous and richly appointed set)–cross-dressing, mistaken identities, hiding under sofas, etc. Director Michael Michetti and his talented cast have blended it all together in a plus perfect soufflé of comic hijinks. Angela Balogh Calin has designed some wonderfully outrageous and colorful centuries spanning costumes. This production is sure to be remembered as one of the funniest of 2015. Don't miss it!

Will Bradley, Natalie De Luna, Joshua Wolf Coleman, Jeanne Sakata and Alan Blumenfeld

A Noise Within, 3352 E. Foothill Blvd. in Pasadena. Ends May 10. www.anoisewithin.org or 626-356-3100 ext. 1.