Doug Haverty and Adryan Russ' musical Inside Out is subtitled "A colorful musical about an all-girl group." Although there is a Ms. White among the characters, this is not a riff on The Dreamgirls of Motown. This all-girl group is in therapy, presided over weekly by the motherly confessor Grace (Cynthia Ferrer) who at times gets too close to this group and suffers "Grace's Nightmare" as a result. It may be harried for Grace, but it is fun for the audience. This disparate group of females runs the gamut from sophisticated VP to hippie love child, from son-obsessing lesbian to weight conscious terminal housewife.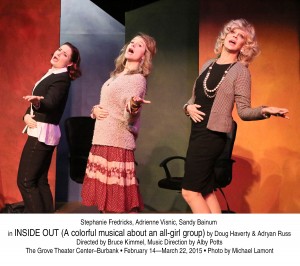 Haverty's book sketches his characters in thin stereotypes. The lyrics by both Russ and Haverty, flesh out these women in song. Russ's score features rap and upbeat comic riffs as well as power ballads and is extremely melodic and catchy. You do come out of this show humming the tunes. And the cast of six, even with an understudy at the performance I attended, really sell the goods. The group numbers "Inside Out" and "If You Really Loved Me" and others are still playing in my head a day later.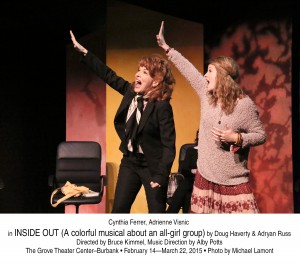 Ferrer is the calm presence in the midst of this occasionally madcap mayhem. She gently cajoles her group members to act out their emotions, taking on the roles of each other. This leads to some hilarious play-acting and soul-bearing. Sandy Bainum impresses as the wealthy executive who is juggling office politics, job offers and a stay at home husband who really wants to be a chef. The cast has fun convincing her to "Do It At Home." Adrienne Visnic is a comic jewel as the laid back flower child whose problem in life and especially her love life is neatly summed up in "I Don't Say Anything." Ferrer and Visnic team up for the delightful anthem "Let It Go."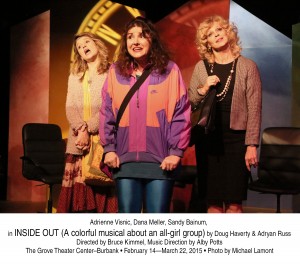 Dana Meller also delivers the laughs as the self-conscious housewife who wants to be "Thin" and finally starts to achieve her goal with her Divorce Diet. Stephanie Fredricks deftly plays the somber and sarcastic lesbian who has put her love live on hold while raising her teenage son. She soulfully delivers the beautiful ballad "Never Enough". Dena White (understudy Jill Marie Burke) is the newest member of the group. Dena is a former recording star who hasn't released an album in nearly five years and is teetering on the edge of bankruptcy while battling writer's block and fears of rejection. After getting past her initial aloofness, the group really warms up to Dena and soon are planning her triumphant return to the stage, helping with everything from flyers to catering to painting backdrops. That's what friends are for. Burke really sold the finale "Reaching Up" and seemed like an intrinsic part of the cast throughout.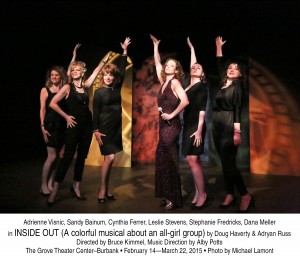 This 20th Anniversary production was skillfully and economically directed by Bruce Kimmel. The show's brisk pace never slacked and the momentum kept building to a rousing finale. Rei Yamamoto's set design consisted of a few painted panels artfully lit by lighting designer Maarten Cornelis. Six rolling chairs were all these talented ladies needed to maneuver their way through their scenes and songs. Natalya Shahinyan's costume design gave the women a slightly different look for each scene with an accessory here, a handbag there, with a scarf and blazer to enhance and delineate their characters. Musical director Alby Potts on keyboards and Tyler Smith on percussion gave the score a great sound. See and enjoy Inside Out. This is one group therapy session you will definitely want to join.

Grove Theatre Center, 1111-B W. Olive Ave. in Burbank. Ends March 22. 323-960-1055 or www.plays411.com/insideout