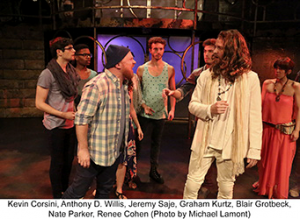 Andrew Lloyd Webber and Tim Rice's Jesus Christ Superstar started as a double LP concept album in 1970 because no theatrical producer was willing to stage it. I bought that album as did many others. I saw a concert version at the Hollywood Bowl in 1971. A Broadway production opened in October 1971 and ran for 711 performances. A memorable production was staged at the Universal Amphitheatre in the summer of 1972 starring Ted Neely and Carl Anderson who would soon be scooped up by director Norman Jewison for the 1973 film version. The rock opera has had three Broadway revivals, none running more than 116 performances, including one in 2000 set in a future militaristic society and Des McAnuff's ill-conceived modern take on the story in 2012. It has had many stagings at Southland theatres including one in Long Beach with Sam Harris in the title role. Ted Neely and Carl Anderson seemed to make a career out of starring in one national tour after another for the past four decades. And now director Marco Gomez and the DOMA Theatre Co. have brought their vision to sizzling life in the intimate confines of the MET Theatre in Hollywood.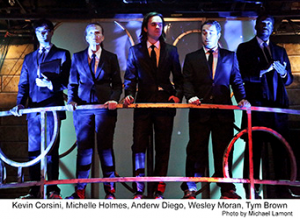 The show has always been one of my favorite Lloyd Webber/Rice works, mainly because of the variety of musical styles used to tell the story. Besides rock there is folk, vaudeville, power ballads etc. The five-piece onstage band under the musical director of pianist Chris Raymond really sells this score and Jules Ferrin's sound design makes sure every note, every lyric is clearly heard. This is also a modern dress version—the men in their skinny jeans, the women rocking the hippie flower child look—but it works so much better than the two most recent Broadway revivals. Selfies are the big thing among Jesus' followers, they even attach their cell phones to yard long selfie sticks and wave them instead of palms during "Hosanna." The Pharisees are in black suits, looking like businessmen or mobsters while their makeup gives them the look of zombies and their puffing on long cigarette holders brings to mind Alice in Wonderland's Caterpillar. When Pontius Pilate (a top rate Kelly Brighton) first enters in smoking jacket, eye patch and pipe, he looks like the man from the Hathaway shirt ads. The scene at the Temple is a leather fetishist's dream come true. The wonderfully eclectic costume design is by Lauren Oppelt. John Iacovelli's two level scenic design easily transforms into many locales while Christina Schwinn's lighting dazzles the eyes.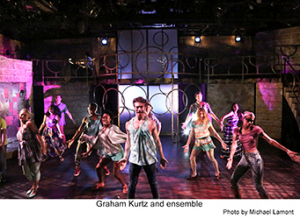 Choreographer Angela Todaro did a marvelous job with her young cast giving "Simon Zealotes" an abundance of energy. Her staging of "Superstar" features a bevy of headdress wearing Vegas showgirls. She even turns "King Herod's Song" (perfectly inhabited by Venny Carranza) into a big tap number before it concludes. Nate Parker is a standout in the title role. His falsetto reaches unbelievable heights and he can scream to the heavens, but his soft moments are equally impressive. His "Gethsemane" is a true highlight. Renee Cohen makes a lovely Mary Magdalene and her sweet voice caresses the lyrics to "I Don't Know How to Love Him." Her voice blends pleasingly with that of Blair Grotbeck's Peter in the plaintive "Could We Start Again Please?" Jeremy Saje as Judas, with his knit cap always firmly in place, looks like a longshoreman. He does a workmanlike job with the role but he really doesn't make Judas the standout the character usually is.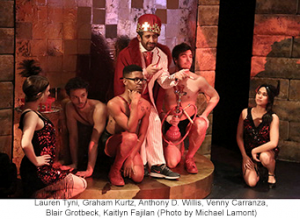 Even with all these superlatives, there are a few nitpicky elements to the show. The fog machine is turned on high throughout, giving the show a gauzy feel most of the time. That may be a directorial choice but two hours breathing that chemical fog can't be great for the cast or the audience. Parker has several tattoos on his torso and as the good Jewish boy Jesus was, they should not be exposed. I realize it's difficult to keep Jesus fully clothed given his final scenes on the cross, but I believe there is makeup available to cover tattoos. And speaking of the final scenes, Parker quivers a bit too much, starting way before he receives his "39 Lashes." But overall this Jesus Christ Superstar is a most welcome addition to the current theatrical landscape.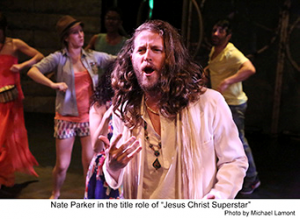 The MET Theatre, 1089 N. Oxford Ave. in Los Angeles. Ends April 19. 323-802-9181 or www.domatheatre.com