On March 31, 1957 more than 100 million people tuned their televisions to watch the live CBS program Cinderella, the only original TV musical written by the famed team of composer Richard Rodgers and lyricist/bookwriter Oscar Hammerstein II. Julie Andrews, fresh off her Broadway success in My Fair Lady, played the title role. A version featuring a few more R&H songs from other shows was telecast in color in 1965, making a star of newcomer Lesley Anne Warren. In 1997 another version appeared on TV headlined by Brandy and Whitney Houston. It was adapted to the stage as early as 1961. I first reviewed it in a production at the Long Beach Civic Light Opera in the early 1990s which featured Olympic diver Greg Louganis, making his stage debut, as The Prince. A few years later the Nederlanders mounted an all-star production at the Pantages Theatre that featured TV soap stars Bobbi Eakes and Jeff Trachta as Cinderella and her Prince, Steve Allen and Jayne Meadows as the King and Queen and Rose Marie as the Fairy Godmother.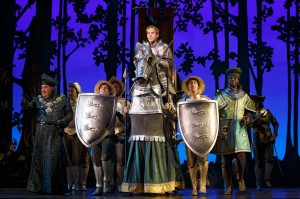 Andy Huntington Jones (all photos by Carol Rosegg)
In 2013 the musical finally made its Broadway debut with a new book by Douglas Carter Beane, whose work I've admired in such shows as Xanadu, The Little Dog Laughed and The Nance. But this viewer is not a fan of his revisionist take on this tale. The heart, the charm, the innocence has been leeched out of the fairy tale and replaced with snark which passes as humor today. The audience around me enjoyed it but then most of them are accustomed to snark nightly on TV and weekly at the movies. This old-fashioned romantic prefers his fairy tales to have a heart and a soul.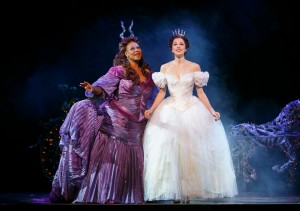 Kecia Lewis and Paige Faure
First off Beane committed regicide, killing off both the King and Queen. That not only made the Prince already a King, herein called Topher, but an orphan just like Ella. Ella (Paige Faure) first appears in a woodland setting (by Anna Louizos) that evoked Sondheim's Into the Woods more than anything else. Then into those very woods arrived Topher (Andy Huntington Jones) and his men to fight a "Woodland Creature" that looked like a giant praying mantis that had wandered in from a sci-fi movie. In place of their royal majesties, Beane has created an evil Prime Minister (Branch Woodman) who is making the lives of the peasants even poorer and more miserable. He has also created the character of Jean-Michel (David Andino), a revolutionary with a crush on one of Ella's stepsisters.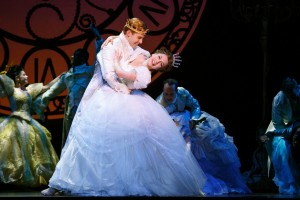 Andy Huntington Jones and Paige Faure
There are plenty of other changes in store. Cinderella doesn't lose a glass slipper on the stairs as she runs from the ball at the end of Act One. Flummoxed as to how to find his true love, Topher decides to hold a banquet and invites the kingdom to attend. It's a chance for Marie, the crazy bag lady also known as The Fairy Godmother (Kecia Lewis soaring to operatic heights as well as the proscenium arch in her two numbers), to create yet another magical dress for Ella to wear. Actually the transformation of first Marie and then Ella is quite magical due to the costume wizardry of William Ivey Long. His colorful costumes are definitely the show's highlight. It's when running from the banquet at the stroke of midnight that Ella decides to hand Topher one of her slippers, in the hopes he will take the hint and search for her. Of course the tale still has its happily ever after wedding finale.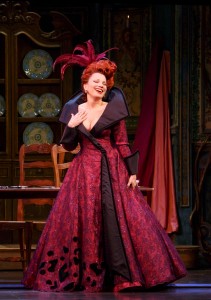 Fran Drescher
The cast is personable and in fine voice but Beane has given them caricatures to play, not characters. Fran Drescher as Madame, formerly known as the Wicked Stepmother, fares best. Her acidic and incredulous line readings bring true laughs. It takes a master to make a weak joke work well and one of the best is at work here. Director Mark Brokaw tries to keep the action moving along but the padded book with all the new subplots does slow the pacing at times. The score, featuring such hummable tunes as "In My Own Little Corner," "Impossible," "Ten Minutes Ago" and "Do I Love You Because You're Beautiful," is a delight to the ear. Unfortunately this revision has caused "Stepsister's Lament" to be sung by just one stepsister, muddling its intent. While not exactly a sow's ear, this production is still far from a silk purse.


Ahmanson Theatre, Music Center. 135 N Grand Ave. in Los Angeles. Ends April 26. 213-972-4400 or www.centertheatregroup.org.