On Sunday March 22, Producer Bruce Kimmel and Kritzerland hosted a CD release party for Sandy Bainum's third album with the label at Sterling's Upstairs at the Federal. The album, It Might Be Fun, was released in December and all the songs were written by Kimmel, some old—"I See Rainbows" was written when he was 15 (just three months ago according to Bainum's patter but then most everything was written when he was 15 it seems), some new—"Two Roads" was last year's collaboration with living legend Richard M. Sherman, and most proved very eclectic—"The Lights and the Smiles" from his cult film The First Nudie Musical and "Falling Out of Love" from his stage musical Together Again. There was a nice balance of poignant ballads as well as some comedy numbers such as "Who Do I Have to Blank to Get Out of This Show?" which Kimmel wrote for his mystery novel, Writer's Block, which dealt with a bus and truck tour of a musical.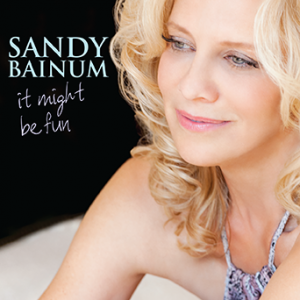 Bainum makes a perfect instrument for Kimmel's songs. Her melodic voice caresses each lyric clearly and she perfectly hits every note. She brings her acting chops to the character driven ballads such as "Three Acts" and "It Doesn't Get Easier." She displays a great sense of humor in the lighter numbers such as the title song, even placing tap shoes on her hands for a dance break in the middle of one number and encouraging the audience to join in with their kazoos on another. She donned an apron over her sparkling gown for "Here On Earth," a plaintive ballad from Kimmel's stage musical The Brain From Planet X, and passed out cookies she baked herself while challenging Martha Stewart to get on a stage and sing a song.
Bainum recorded the album in the legendary Studio A at Capitol Records in Hollywood, backed by a 35 piece band. At Sterling's she had her amazing musical director, Lanny Meyers who did all the arrangements, and four other members of the band. The percussion was a bit overpowering at times, but mostly the music soared as high as Bainum's vocals.
Next up at Sterling's is Brad Bradley on March 29, Kevin Earley on March 30, Kritzerland's April Fools show on April 5 and Alexandra Billings on April 19.