Two of the modern musical theatre's most well-known but disparate composers share a birthday, March 22, although American Stephen Sondheim has a few years on British Sir Andrew Lloyd Webber. On Sunday March 8, Kritzerland celebrated The Birthday Boys with a splendid evening of songs and laughs at Sterling's Upstairs at the Federal. It was probably the best overall monthly outing of Kritzerland I have had the pleasure to view in the year I have been attending. I have been a Sondheimite since Company blew me away over four decades ago. I have never been an absolute Lloyd Webber hater although I liked his earlier work much more than anything since his Cats first pawed their way across a stage now and forever, forbid. I'm not sure this evening would turn an ALW hater into a lover but maybe a liker, if there is such a creature. The secret—the amazing cast of performers producer Bruce Kimmel gathered to salute the composers.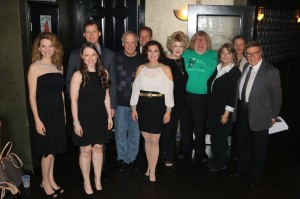 Cast photo by Karen Staitman
Kimmel provided his usual exhaustive and thoroughly entertaining background on the songs, the shows and the composers. He revealed that when he was writing for a website in the late 1990s, he created a make believe feud between the two and gave some sample lyrics from songs he wrote to illustrate. Lloyd Webber couldn't understand why the critics loved Sondheim so much more than they did him but at least his shows made cash, cash and more cash. Sondheim thought it was "Agony" to sit through a Lloyd Webber show, and they were everywhere you would go.
Adrienne Visnic got the evening off to a rollicking start with "Invocation and Instructions to the Audience" which included "So please don't fart, there's very little air and this is art." The song is from Sondheim's rarely produced Frogs which Meryl Streep, Sigourney Weaver and Christopher Durang originally performed in a swimming pool at Yale in 1974. Visnic continued to show her comic prowess as she did double duty as the soaring soprano as well as the hectic bride in Company's "Getting Married Today." She later broke your heart with the wistful break up song "Tell Me on a Sunday," from Lloyd Webber's rarely produced Song and Dance. Guest Star Bruce Vilanch gave a manic take to Sondheim's "Losing My Mind," while also making some acerbic jokes about Brian Williams and Bill O'Reilly and explaining about the seven different versions of The Music of Andrew Lloyd Webber for which he wrote the connecting patter. But the biggest laughs of the night were generated by the dynamic duo of Kevin Earley and Stan Chandler doing the always show-stopping Princes' lament "Agony" from Sondheim's Into the Woods.
Chandler's dulcet tones shined brightly on Lloyd Webber's "Love Changes Everything," as he slowly built his way through the song to a thundering finale. He also delivered a heartfelt paean to regret with Sondheim's "The Road You Didn't Take." Kevin Earley really sold "The Music of the Night" from The Phantom of the Opera and if he had done all 11,000 Broadway performances I could understand the show's longevity. His booming voice perfectly delineated the bombastic fun of Sondheim's "Make the Most of Your Music." The song was written for the London production of Follies and rumor has it from Sondheim insiders that it was a pointed barb at Lloyd Webber's style of composing. Kimberly Hessler showed her varied range with the comic upbeat "What More Do I Need?" by Sondheim as well as the lovely Lloyd Webber ballad "Half a Moment." Her highlight was the plaintive finale to Sondheim's rarely seen Anyone Can Whistle, "With So Little to be Sure Of." The melancholy in her performance was palpable.
Musical director Lloyd Cooper delivered expert accompaniment on piano throughout the show. The evening's second Guest Star brought her own accompanist, Shelly Markham. The legendary Sue Raney gave a Master Class in the art of cabaret performing with her rendition of Sondheim's "Send in the Clowns." Raney's phrasing and her dramatic reading of the lyrics was pure perfection. Valerie Perri really got to display her belting chops and her emotionally charged interpretation of the Lloyd Webber canon with hit songs from Evita, Sunset Blvd. and Cats. Her glorious, mesmerizing rendition of "Memory" was the perfect ending to this memorable evening of musical theatre highlights. Encore, please.

Kevin Earley will perform his solo act at Sterling's on March 30 and Kritzerland returns on April 5 with its patented brand of April Fools foolishness. 800-838-3006 ext 1.