Tracy Lett's August, Osage County won a Pulitzer Prize in 2008 for its darkly comic tale of an extremely dysfunctional family come home to bury their patriarch and battle with their evil mother. I don't think Charlotte Miller's Thieves, receiving its World Premiere at the Monroe Forum Theatre thanks to Rising Phoenix Rep, Weathervane Productions and Rattlestick Playwrights Theater, will be picking up any such awards. The writing is overwrought and trite and Daniel Talbott's direction doesn't help to focus it. Miller has killed off the mother here instead of the father, pared the siblings down to three and added in just one lover and one caretaker. Instead of middle class Oklahomans, Miller's family is of the white trash Texas variety. Youngest sibling Lana (Sarah Shaefer) arrives at the family home in rural East Texas to see a bare-assed Jason (Chris Bellant) sheepishly coming out of the house. She's even more shocked to see her disheveled lesbian sister Lottie (Samantha Soule) follow him. Lottie, whose gun toting ex-Army lesbian lover Holly (Addie Johnson) is nearby, pleads grief made her bed down with Jason, who is shocked by the revelation. The play goes downhill from there.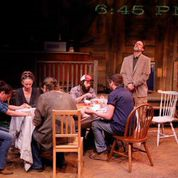 Family dinner before the KFC starts to fly (Ryan Miller/Capture Imaging)
Lana had escaped East Texas and fled to NYC to take up her dream of dancing. But liquor and drugs and more have ruined her legs and now she no longer dances. She's penniless and homeless since her roommates kicked her out for starting a fire in their apartment. There is no love lost between the sisters but they make a pact to split the inheritance between them, cutting out their brother Walter (Macleod Andrews) who they claim is dead. But Walter eventually shows up, out on probation after serving time for child molestation, and he still has an unnatural obsession with Lana. Gordon (John Wojda), their abusive father who has given up drinking and hoping to make amends, also shows up to mourn the death of his ex-wife. The play winds down with the dinner party from hell where the family has gathered around the ashes of the cremated matriarch. When Jason reads a hitherto unknown will, all hell breaks loose. Momma has left the bulk of her estate–house, land and $10,000 to Walter who, despite his predilection for young girls, was always her favorite. Mom's ashes get tossed along with KFC chicken and mashed potatoes all over scenic designer Deb O's dirt front yard. For the most part, the acting is as out of control and unfocused as the writing. Bellant as the sweet caring caregiver is the only seemingly human character on stage—the rest are hackneyed stereotyped caricatures. See Thieves at your own risk. You'll be robbed of 90 minutes of your life as well as the price of a ticket.

Monroe Forum Theatre at the El Portal, 5269 Lankershim Blvd. in North Hollywood. 818-508-4200 or www.elportaltheatre.com