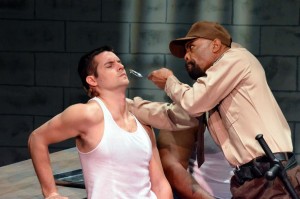 Michael O'Neal Callaghan and Bob McCollum (all photos by Doug Engalla)
Group Repertory Theatre in North Hollywood is currently presenting the West Coast Premiere of Frawley Becker's Tiger by the Tail. It is being billed as a "complex & compelling love story". It may start out that way—Jerry, a Los Angeles therapist in Pittsburgh, PA for a conference, picks us a magazine in a gay bar. He finds a personal ad from a prisoner in Florida and on a whim answers it. He soon finds himself in a torrid exchange of correspondence with Maynard, a 28 year old well-spoken wannabe poet who says he is serving time for being an accomplice to a friend's insurance fraud. Maynard says he is looking for a long term relationship after he is released and sends along his high school prom photo. Jerry is smitten even though he has a bad track record—wife divorced him after he came out, his relationship with a gay alcoholic lover ended badly–and is cautioned to proceed slowly by his own therapist. There is a big reveal at the end of Act One as Jerry finds out a lot of what Maynard has told him was lies. Can their relationship survive all the deceit as well as age, distance and time?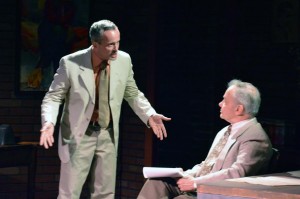 Michael Taylor Gray and Lloyd Pedersen
The play starts out well with the two men exchanging letters and expressing their interests, wants, needs and desires. Those are the best scenes in the play, well enacted by Michael Taylor Gray as Jerry and Michael O'Neil Callaghan as Maynard. You later realize Callaghan has delivered a really fine performance as he was walking a very thin line—not really being who he was saying he was. But then playwright Becker loses his way and his writing fluctuates from florid purple prose to clichéd banalities. Take the Gentle Giant from The Green Mile, add in a rape scene from Fortune and Men's Eyes, mix in an intelligent man in a Neanderthal environment a la Shawshank Redemption, stir in some bigoted brutal prison guards from Cool Hand Luke or any number of prison plays/films plus a festering race war from Oz. I was hoping for a cameo from the chicken from Women Behind Bars for some comic relief. Unfortunately that didn't happen—the little humor here comes from Jerry's munchies addicted therapist Peter (Lloyd Pedersen). Then for the play's finale add a dollop of magical realism and you get the mess presented here. There is also a big problem in logic here. The inmates' mail is read/censored by the guards before being sent out. A letter Maynard writes to the Department of Corrections complaining about prison conditions is held back for this reason. Yet a poem Maynard has written and submitted to a local newspaper about the brutal beating and death of a Hispanic inmate at the hands of an African-American guard is allowed to go out. The resultant publication is the reason for Maynard's rape and bone-crushing assault. Bad use of deus ex machine.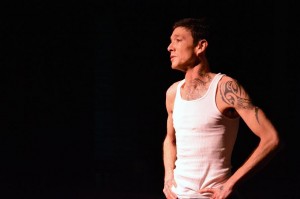 Dave Buzzotta
Director Jules Aaron does a workmanlike job trying to give the story some form and structure and interest. He is defeated by the bulk of the amateurish cast who just can't do much more that play the stereotypes they are given. Dave Buzzotta does a nice job as the real Maynard. But this Tiger is just not worth grabbing by the tail.

Lonny Chapman Theatre, 10900 Burbank Blvd. in North Hollywood. Ends April 19. 818-763-5990 or www.thegrouprep.com