Kevin Earley is one of the brightest talents in today's musical theatre world. He had an extensive list of credits here in Southern California (including winning three consecutive Robby Awards for his performances in 1776, Side Show and Carousel) before leaving for Broadway in 2003 where he took over a leading role in Thoroughly Modern Millie. He later appeared on Broadway in Les Miserables and A Tale of Two Cities. His leading role as Death in the off-Broadway musical Death Takes a Holiday, in which he was a standby until illness took out the original leading man before opening night, earned him a Drama Desk nomination. The Chicago native was back in Los Angeles for "pilot season" and managed to fit in the February Kritzerland show as well as his own cabaret act, On The Record, at Sterling's Upstairs at the Federal on March 30.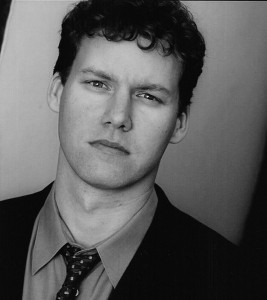 Earley's lilting tenor would have made him a top crooner if he were born a few decades earlier. His mother shared her love of the standards and vinyl records with her youngest son and he shared his memories and album covers with his audience. He effortlessly crooned his way through standards such as "Fly Me To The Moon" and "One For My Baby." He also paid homage to Barry Manilow and his mother with "This One's For You" as well as ending the show with the powerful "Brother Can You Spare a Dime." But Earley and his mother's (who worked for the Marriott Dinner Theatre in Chicago) real love was Broadway musicals by the best composers around–everything from "Old Devil Moon" to "Edelweiss." Earley, his director Julie Ann Emery and their amazing musical director John Boswell put together a few medleys–one of George M. Cohan songs and another of Broadway tunes from such shows as Guys and Dolls and Carousel to Baby and Pippin.
Earley and Boswell engaged in a mock feud leading to the comic highlight of the evening—their dueling duet to "You're Nothing without Me" from City of Angels. Another comic highlight came when Earley asked the audience to choose between a song for him to sing from either Phantom of the Opera or Les Miserables. When only about three people applauded for Phantom, Earley launched into the evening's highlight—his emotionally touching and soaring rendition of "Bring Him Home." Earley also managed to squeeze in "I Thought That I Could Live" from Death Takes a Holiday as well as "My Heart is Beatin'" from the hopefully Broadway bound musical Secondhand Lions. All in all it was an extremely hit-filled and entertaining evening of Broadway and popular standards sung by one of the best voices in the business.