Kritzerland at Sterling's Upstairs at the Federal presented its 56th monthly show on Easter Sunday, April 5. In true Kritzerland tradition it was dedicated to all things April & Spring and titled The April Fools. Comedy was the main ingredient and laughs flowed like, wine, no, like "Vodka," one of the hilarious songs performed by Guest Star Jo Anne Worley. Ms. Worley proved she's still a champ at committing comic mayhem not only with her anti AA pledge tune, but with a cymbal crashing rendition of "I've Got Rhythm." Then wearing a flaming red bonnet, she also led the cast in the sing-a-long finale "Easter Parade."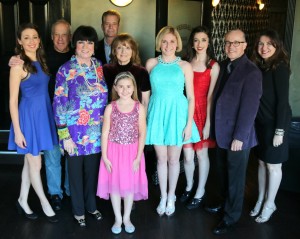 The cast of The April Fools (photo by Karen Staitman)
Ms. Worley wasn't the only laugh generator. Ten-year old Hadley Belle Miller had the audience screaming in delight as she saucily made her way through "Dance Ten, Looks Three." This song was Ms. Miller's choice and was originally deemed a bit inappropriate so producer/songwriter Bruce Kimmel devised some parody lyrics as if A Chorus Line had been written for moppets and the result was a show-stopping laugh riot. Dana Meller had the audience in stitches with her impassioned Russian version of "I'm the Greatest Star" from Funny Girl, a comic gem that I'm sure Fanny Brice and Barbra Streisand never attempted.
Move over Mel Brooks and Carl Reiner and Billy Crystal. There's a new "old Jew" on the block and he's goyim. Oh boyim! Robert Yacko, who in an earlier Kritzerland show channeled his inner Tevye to perform the What If parody "Audition," opened the latest show with another of Mr. Kimmel's parodies. What if Stephen Sondheim wrote an all Jewish version of Company? The result may have included "Bury Me A Little." Still in high Jewish mode, Mr. Yacko later sang a rarity, a song with music & lyrics by composer Alan Menken, "Pink Fish."
The evening wasn't all laughs however; there were some lovely ballads heard also. Mr. Yacko crooned his way through the evening's only put-together—"April Showers/April Love." Brittney Bertier did a lovely rendition of "It Might As Well Be Spring" from State Fair, the only original movie musical by Rodgers & Hammerstein. She also closed the show with the bittersweet "The Life I Never Led" from Sister Act. Ms. Meller proved to be a belter with "What Did I Have That I Don't Have." Sami Staitman introduced two new songs penned by Mr. Kimmel for an upcoming one-girl show he is creating for her. The polished fifteen-year old was all nervous excitement in "Prom" and then showed her versatility with a touching "He Was Grandpa." Mr. Kimmel provided his usual witty and informative background material on the songs and the shows they came from. The recent MAC award winner for Song of the Year sang said song, "Simply," simply and with heart. Jenna Lea Rosen channeled her inner Melba Moore as she raised the roof with Purlie's "I Got Love." Musical director Alby Potts, new to Kritzerland, provided great accompaniment on the piano and his bald pate even received a kiss from Ms. Worley. Overall, it was a great way to spend Easter. There were even little chocolate eggs on the table.

The next Kritzlerand show on May 3 is titled Berlin to Rome and will feature music of May born composers Irving Berlin and Harold Rome.