Ever wondered what flight attendants did on their overnight layovers? In the Los Angeles Premiere of Marisa Wegrzyn's Mud Blue Sky at the Road Theatre Company, they try to party hearty but jet lag overtakes them and the writing. Middle-aged Beth (Carlyle King) just wants to put her feet up and rest her aching back. Her flying partner Sam (Whitney Dylan) wants to party which consists of going to IHOP to meet a former co-worker. They have to leave for O'Hare at 5:30 a.m. and Beth just wants to chill. That means meeting up with her 18-year old high school pot dealer who Sam spies in the parking lot wearing a tux. It's Jonathan's (Adam Farabee) prom night but Beth was his first customer and besides, his hot prom date ditched him before 9 p.m. to go off with her friends. Beth owes Jonathan more money that she takes down to their parking lot rendezvous so she invites him back to her hotel room to get more cash. Sam also comes back to Beth's room with Angie (Amy Tolsky) who has brought along a $400 bottle of cognac.

Adam Farabee, Carlyle King and Whitney Dylan (all photos by John Lorenz)
There is not much plot or character development in this 90-minute intermission-less comedy. Farabee and his character come off best. Jonathan is an enterprising and smart kid. He has been accepted at Cal Tech but would rather remain at home to care for his drunken father and work on his drawing which all the ladies admit is quite good. Dylan's Sam is all over the place—naïve or dumb, flirty or vindictive–and the character never gels. King evokes Beth's tiredness with conviction but there is not much more to the character. Tolsky's Angie, who was fired from her airline job, at times seems she could be the life of the party. Then she delivers a long monologue out of left field about a former passenger's mercy killing of her husband.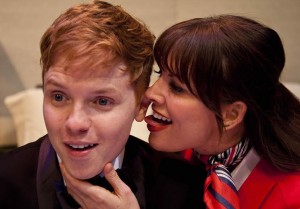 Adam Farabee and Whitney Dylan
Director Mary Lou Belli keeps the play moving but there is not much she can do with the inert writing. If jokes about pot smoking, cable porn, Bravo's Top Chef, Sprite and cognac mixers, big boobs, plastic forks in dishwashers and sticky TV remotes are your thing, then Mud Blue Sky will be a laugh riot for you. This viewer was not amused.

The Road on Lankershim, 5108 Lankershim Blvd. in North Hollywood. Ends June 13. 818-761-8838 or www.roadtheatre.org