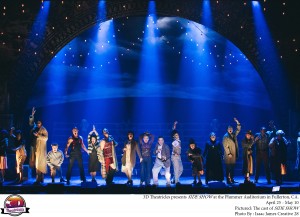 The freaks of Side Show (all photos by Isaac James Creative)
Bill Russell and Henry Krieger's musical Side Show opened on Broadway in 1997 and was a critical success and a box office failure, closing after 91 performances. But the tale of the real life conjoined twins, Daisy and Violet Hilton, became a cult sensation thanks to the show's recording. The amazing score kept the show alive among its fans. The Colony Theatre in Burbank produced the Los Angeles Premiere in 2002 and played to sold-out audiences and received an extension. It also won many theatre awards including a record eight Robby Awards from this reviewer. A very misguided revisal by film writer/director Bill Condon primiered at the La Jolla Playhouse in 2013 and eventually made it to Broadway last Fall where it managed only 56 performances.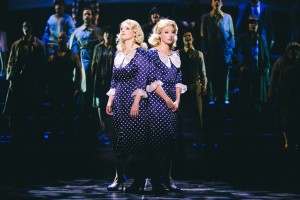 Afton Quast and Jeanette Dawson
3D Theatricals is presenting the original version at Plummer Auditorium in Fullerton through May 10. If you have the tiniest bit of musical theatre love in your soul, DO NOT MISS IT! It's an amazing full scale production of an even more amazing piece of musical theatre. The score sounds glorious as played by the twenty-member pit orchestra under the direction of Allan Everman. The chorus of twenty-plus "freaks" make the chorale work sound heavenly. And the leading performers beautifully bring to life the story of the Hilton Sisters under the tight direction of T.J. Dawson.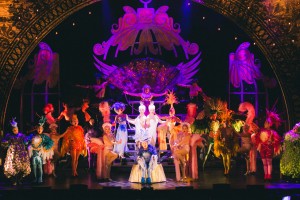 "Rare Songbirds on Display"
Performer/songwriter/choreographer Buddy Foster (Gary Brintz) discovers the sisters at a freak show and invites Orpheum Circuit promoter Terry Connor (Gregg Hammer) to see them. Soon the guys are planning to take the sister act to vaudeville. Daisy (Afton Quast) is all for it; she wants fame and fortune. The more shy Violet (Jeanette Dawson) is reluctant. She wants a normal life–a husband and family–but she feels an attraction to Buddy and accepts. Soon the Hilton Sisters are the toast of the vaudeville circuit with their unique act. They are sad to leave their "family" of side show freaks, the only life they've known, but they do. Coming along with them is Jake (Jay Donnell), the side show's Cannibal King and the devoted protector of the sisters.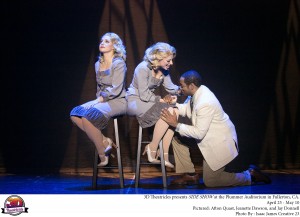 Afton Quast, Jeanette Dawson and Jay Donnell
While their public lives are successful and glamorous, their private lives are full of disappointment. Buddy finally half-heartedly proposes to Violet to cheer her up but finally realizes he doesn't love her enough to carry it through. Meanwhile Daisy has Terry all hot and bothered but he too has commitment issues with a woman forever joined to another. This is stunningly expressed by Hammer and Quast in the sizzling "Private Conversation." The relationships explode in the fantastic "Tunnel of Love" number memorably staged here by Dawson. The foursome is in an amusement ride car, suspended over the stage, lit by spotlights while the chorus sexually cavorts below them. It's one of those theatrical moments you always fervently hope to see but so rarely do. Dawson and company have really pulled it off here. (Inexplicably this number, which boils the whole show down to five minutes or so, was cut completely from the revisal.)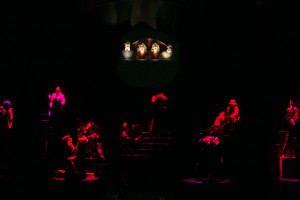 "The Tunnel of Love"
Director Dawson and his choreographer Leslie Stevens also create a few other over-the-top production numbers that highlight the sisters' vaudeville act–"We Share Everything" and "Rare Songbirds on Display." As Daisy and Violet, Afton Quast and Jeanette Dawson hit their big power ballads–"Who Will Love Me as I Am" and "I Will Never Leave You"–perfectly. Hammer is heart-breaking in "Private Conversation" and "Tunnel of Love" while Brintz bubbles over with boyish charm in "One Plus One Equals Three." Donnell delivers an impassioned "You Should Be Loved."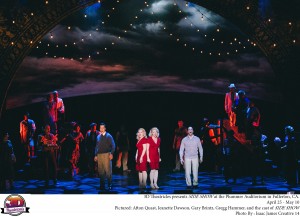 Gregg Hammer, Afton Quast, Jeanette Dawson and Gary Brintz
The production's technical aspects are all top notch. Stephen Gifford's set design is at times stark as well as colorful and always interesting. Kate Bergh's costumes, especially for the vaudeville numbers, are spectacular. Jean-Yves Tessier's lighting design is dazzling. There was a tiny mis-step made by director Dawson. He chose to not confine the girls by using a costume trick to signify their conjoined condition. He relied on the actresses to stay physically attached and that concept isn't effective all the time. But it's a minor quibble in a truly splendid undertaking.

Plummer Auditorium, 201 E. Chapman Ave. in Fullerton. Ends May 10. 714-589-2770 ext. 1.