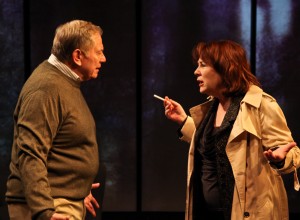 Sam Anderson and Taylor Gilbert (all photos by Michele Young)
The brain is probably the human body's most complicated and under-rated organ. All the various things it does constantly and so effortlessly are mostly taken for granted. Until it starts to fail us. Until we can't remember where we left the keys. Until we can't remember what is that word we need to complete this thought? Is our loved one still alive or only alive in our memories? Sharr White has written an intriguing and spellbinding play about a neurologist specializing in developing and marketing a new drug to treat brain disease. In The Other Place, Juliana (Taylor Gilbert) is driven in her work because of a history of brain cancer in her own family. While delivering a speech at a doctors' conference in St. Thomas, she has an episode. It's the first of many. Is she divorcing her husband, Ian (Sam Anderson), or is he going to be her oncologist when her self-diagnosis is confirmed? Why can't she remember if she can smoke in her doctor's office or not? Is her daughter alive and married with children or is she still missing and presumed dead? Does she still own her family home on Cape Cod or is there a new tenant? Instead of brain cancer, Juliana, at age 52, is diagnosed with early onset dementia.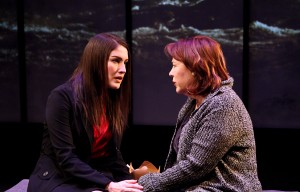 Danielle Stephens and Taylor Gilbert
I don't want to give away too much of White's plot complications and take the fun and guessing game away from future audiences. Suffice it to say you will be hooked on Juliana's dilemma and eager to solve the mysteries her disease has brought to life. Director Andre Barron keeps the tension building and the pace never flags. It's as if he directed an Agatha Christie murder mystery or a Rubik's Cube puzzle for the stage. Gilbert gives a gutsy, heart-breaking, tour-de-force performance, raging against her failing memories and all those around her. She grips your heart and mind and never loosens her hold. She is given strong support by Anderson and by Danielle Stephens and Dirk Etchison who play multiple roles. But it is Gilbert's play and she commands every second of the eighty-five minute intermission-less work. Kaitlyn Pietras' set/projection design is well conceived as is Pablo Santiago's lighting design. Visit The Other Place and be caught up in one of the best theatrical experiences of the year.

The Road on Magnolia, 10747 Magnolia Blvd. in North Hollywood. Ends May 31. 818-761-8838 or www.roadtheatre.org