Stephen Belber's play The Power of Duff, currently at the Geffen Playhouse, is a very interesting and thought-provoking piece of theatre. It may be repetitive at times and run a bit long—trimming it to a 90-minute one-act would probably serve the piece better—but it is an interesting take on faith and spirituality and the creed that "one man can make a difference". Charlie Duff (Josh Stamberg) is co-anchor of the 6 and 11 o'clock newscast on a Rochester, New York TV station. The big stories of the day might be cows perishing in a barn fire or the downtown Ramada's 25th anniversary. Not much earth shaking news seems to be generated in Rochester. When Charlie's dad dies suddenly and he returns home from the funeral in Oregon, he begins to question his life choices. He is estranged from his ex-wife (divorced because of his serial infidelity) and from his now 16-year old son Rick (Tanner Buchanan) who has refused to talk to him for the past two years. He hopes to reconnect with his son so that he doesn't repeat the mistakes of his relationship with his father. Charlie also seems to be so self-involved he doesn't realize his long time co-workers have problems of their own. His co-anchor Sue (Elizabeth Rodriguez) is having marital problems because of the care of her autistic son. His "best" friend John (Brendan Griffen), the TV station's sports guy, suffers from manic depression though he appears to be constantly joking.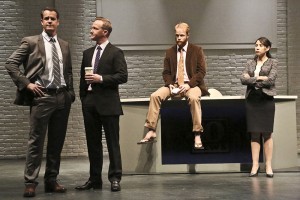 Josh Stamberg, Eric Ladin, Brendan Griffin and Elizabeth Rodriguez (photo by Michael Lamont)
Signing off the newscast one night, Charlie says a prayer for his departed father. The station manager Scott (Eric Ladin) threatens suspension until the station's switchboard and website are flooded with support for Charlie's "religious moment". When Charlie's prayer that the kidnappers of a young girl return her unharmed and drop their outrageous ransom demand comes to fruition, he becomes a media sensation. Soon there are protestors in front of the studio daily claiming he's Rochester's own Jesus or its own Satan. Charlie doesn't know what to make of it; he's never been that religious. His prayers for reform at a local prison result in over $50,000 in donations. He befriends 19-year old inmate Casey (Maurice Williams), serving a 75 year sentence for armed robbery and murder. When Casey is brutally beaten by guards and given no chance to live because of all the internal damage he suffered, Charlie prays for his full recovery. When Casey miraculously defies the odds and comes out of a coma and off of life support, there is no stopping the power of Duff. NBC comes offering millions of dollars and his own global podium. But Charlie is still emotionally stunted and seemingly indifferent to the people around him. He misses a chance to reconnect with his son. He misses the danger signals in John's behavior and he takes advantage of Sue's marital problems for a quick tryst.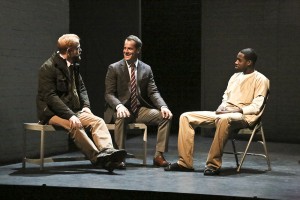 Brendan Griffin, Josh Stamberg and Maurice Williams (photo by Michael Lamont)
Belber's writing goes off on a lot of tangents and would be better focusing on Charlie's grappling with his new found power. It would also help if Charlie were more likable. Paddy Chayefsky created a ranting demagogue of a newscaster with the character of Howard Beale in the prescient film Network nearly 40 years ago. Charlie is not quite at the "mad as hell and not going to take it anymore" stage but a bit of fire might enliven the proceedings. The cast is fine under Peter DuBois' steady direction. Joe Paulik gives stellar support as on-the-scene reporter Ron Fitzpatrick (covering nude ice skating and conflicted protestors) as well as several other characters. Clint Ramos contributed the stark white scenic design, with a myriad of overhead light fixtures that lower to pinpoint various locations. Aaron Rhyne's projection designs really add flavor and variety to the production.

Geffen Playhouse, 10886 Le Conte Ave. in Los Angeles. Ends May 17. 310-208-5454 or www.geffenplayhouse.com