In 1979 playwright John Ford Noonan wrote A Couple of White Chicks Sitting around Talking. If theatre had "answer plays" like 1960s answer songs such as "It's My Party" and its answer "It's Judy's Turn to Cry," then Wendy MacLeod's 2003 Things Being What They Are could be its answer. The play, making its Los Angeles Premiere at the Road Theatre Company, is basically "a couple of white guys sitting around talking while drinking lots of beer". For all the talking her characters do in the nearly two hours spent in their company, a lot is revealed but it is basically just a male bonding experience. McLeod really knows her guys inside and out and provides a lot of mild laughs exposing their foibles and posturing but buy me a beer and I'll tell you my problems. You will probably have just as much fun and it would cost you less.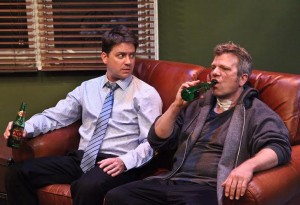 Bernie Zilinskas and Chet Grissom (all photos by Michele Young)
Bill (Bernie Zilinskas) is moving into a condo in New Jersey. He's a marketing exec for Seagrams and this is a new posting. He is anxiously awaiting a phone call from his estranged wife, an actress who has been having an affair with a fellow actor. In barges nosy and very talkative neighbor Jack (Chet Grissom), an accountant for Sears and a bitter divorced man struggling to pay alimony and child support. Jack eventually reveals he will be having a biopsy on the lump on his neck in a week and needs a ride home from the hospital. Bill reluctantly volunteers. A week later, Bill has forgotten to pick up Jack because he is expecting his wife to arrive any moment. She has finally decided to break it off with her lover, or so she says. Jack tells of his exploits with his ex-wife and her new boyfriend who ended up bringing him home from the hospital. Jack also reveals he lost a two-year old son to cancer a few years ago in the same hospital where he was just told his thyroid cancer has metastasized and is at least a Level 2 if not Level 3. Bill tries to console Jack who doesn't want to die alone since he just found out his wife's boyfriend is moving his wife and two sons to Texas and suing to adopt them. When Bill gets some bad personal news in a phone message, the two men really cement their bond.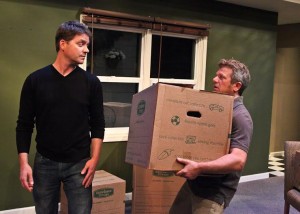 Bernie Zilinskas and Chet Grissom
The actors are fine and director Andre Barron keeps them moving around Stephen Gifford's well-appointed set design to keep the eye engaged. Unfortunately MacLeod has not really written much to keep the mind engaged. There is nothing new or revelatory here. It's a pleasant if unexciting endeavor.

The Road on Lankershim, 5108 Lankershim Blvd. in North Hollywood. 818-761-8838 or www.roadtheatre.org.