5inaHive, a group of theatre artists with a goal to produce theatre by and about women, had a very interesting concept for their first production, Women on Time, premiering at Working Stage Theatre. They are presenting seven original short plays about women—from suffragettes to present day corporate executives. Each play features three characters—a younger, a middle-aged and an older woman—each a voice for her generation's perspective amid the issues of the time. All played by the same talented and finely meshed ensemble of Kimberly Alexander, Julie Janney and Joanna Miles, respectively. The result is a pleasant, fast-moving evening that both entertains and illuminates how much has changed and how much has stayed the same for women since they secured the right to vote nearly a century ago.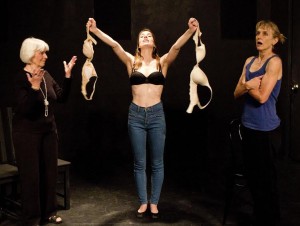 Joanna Miles, Kimberly Alexander and Julie Janney (all photos by Vanessa Mirabel)
Bonnie Garvin's Flight School takes us on board an airplane in 1992 while three flight attendants get ready for beverage service. The youngest, Sandra(Alexander), was nearly raped in her hotel room the night before by the pilot. Even in flight, he is still managing to sexually harass her. The older prim Helen (Miles) is at first shocked by Sandra's language and by the revelations. Then she breaks down and confesses she was raped by a pilot when she first entered service. Her final response to the cockpit is a real hoot. Nikki McCauley's To Bra or Not to Bra is set in 1962 as Mom (Janney) tries to convince her young daughter (Alexander) she needs to buy and wear a bra to her father's special event. But the free-spirited daughter turns the tables and unhooks the bra straps by convincing her Mom and the elderly sales clerk (Miles) to have a go at going braless.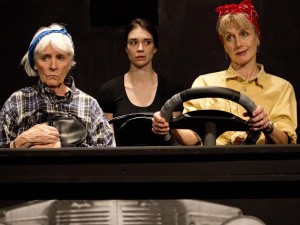 Joanna Miles, Kimberly Alexander and Julie Janney
Deborah Pearl's Invaluable is set in today's dog-eat-dog corporate boardrooms as young whiz Megan (Alexander) attempts to take control of a division of a corporation by ousting her legendary predecessor Barbara (Miles). But the old dog still has some tricks and proves women can be just as treacherous in the workplace as men. Bridget Terry's Rosies closes the first act by looking back at the women who kept this country producing war materials while the men were away fighting World War II. Elderly Fern (Miles) doesn't mind being dismissed from her job in an aircraft company in 1945 but Peg (Janney) really liked the money and the sense of independence she earned in the past few years. Even though her husband will be back home within a week, Peg wants to keep working and keep earning. That's no problem for Latina Lupe (Alexander). Every factory needs someone to clean the toilets.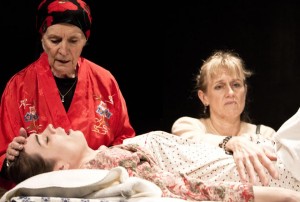 Joanna Miles, Kimberly Alexander and Julie Janney
Act Two's opener is the evening's emotional heavyweight. Lorin Howard's Defining Moments is set in 1955 as 18-year old Faith (Alexander), bleeding profusely from a self-inflicted attempt at abortion, finds her way to elderly abortionist Esther (Miles). When Faith's overbearing and overly religious mother Mary (Janney) arrives and starts praying and ordering Esther to save the child at any cost, Esther reminds her that the cost may be the loss of her own child. The three women face a harrowing experience that was a commonplace occurrence until Roe vs Wade. But now as conservatives attempt to turn back the clock and once again take control of women's bodies, this scenario can be seen as a wake-up call.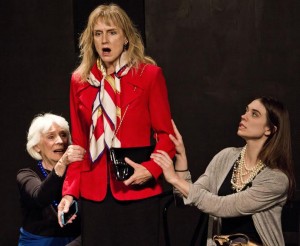 Joanna Miles, Julie Janney and Kimberly Alexander
Joanna Miles penned Lunch, the evening's funniest outing. Three Beverly Hills housewives are meeting for lunch at The Ivy when Helen (Miles) discovers something hilarious and unfortunate on the internet. Christie (Alexander), the victim of too much Botox and lips that won't move, is desperate to find out what. When political wife Sandra (Janney) finally arrives she discovers photos of her politician husband's penis are trending on the internet. Will she remain the "good wife?" Alexander's characterization is spot on and side-splittingly funny. The evening ends with Susanna Styron's Suffrage, a look back how three different generations of women viewed the increasingly vocal suffragette movement as the USA entered the war in 1917.
The mood of each piece was deftly set by the video projections and sound design of Fritz Davis. The plays' directors—Maria Gobetti, Jenny O'hara, Bridget Terry and Iris Merlis kept the evening moving briskly and got nuanced performances—both comic and dramatic—out of their trio of actresses. The seven plays wrap in under two hours including intermission. If only other playwrights were this brief and concise. Women on Time is worth your time.

Working Stage Theatre, 1516 N. Gardner St. in Hollywood. Ends May 17. 323-960-7724 or https://www.plays411.com/wotime