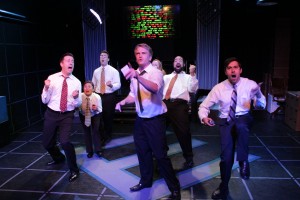 Enron traders buying up the future (all photos by Joanna Strapp)
The Enron Scandal of 2001 is familiar to most people over age 30. They may not totally understand what it was all about but they do remember the headlines, the news stories, the congressional investigations etc. People living in California in 2001 have a special reason to remember—the rolling blackouts and brownouts that eventually led to the recall election of Governor Gray Davis and the rise of the Governator. (Except those of us who lived within the city limits of Los Angeles and dealt with the DWP which was not as affected by the electricity deregulation madness.)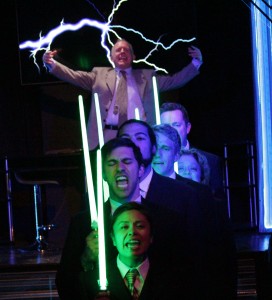 Skip Pipo leads his traders in the rape of California
British playwright Lucy Prebble wrote the play Enron and it was a hit in London in 2009, winning several awards. A Broadway production in 2010 proved to be short of energy when it lasted only 16 performances. Methinks the Brits love accounting shenanigans and anti-American business plays more that we Americans do. You can judge for yourself now that The Production Company is presenting the Los Angeles Premiere of Enron at The Lex Theatre in Hollywood.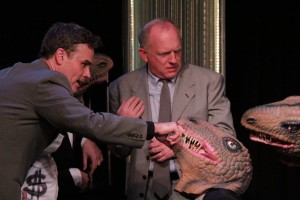 David Lombard and Skip Pipo feed the raptors
As a former accountant I know it is extremely difficult to make a balance sheet interesting to anyone, including most CEOs. Show them the money, not numbers in columns. Prebble has painstakingly outlined the financial maneuverings of Enron's CEO Jeffrey Skilling and his duplicitous CFO Andy Fastow. But it is very dry storytelling and although she has added in "vaudeville" elements such as puppetry—the Board of Directors as Blind Mice, debt eating shadow companies as ravenous raptors—along with light saber wielding Jedi Knight energy traders, it's a tough slog making it from beginning to end. It's a very cold, impersonal and soulless show, just like the money grubbing characters it presents.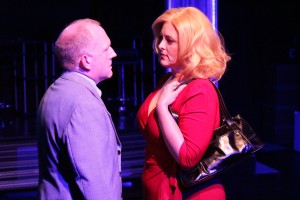 Skip Pipo and Ferrell Marshall
Director August Viverito, with help from choreographer Nancy Dobbs Owen, has injected as much energy and spunk into the evening as possible and the dedicated cast goes at it full bore, but the resultant product lacks emotional depth. Skip Pipo commands the stage as the driven Skilling. David Lombard is fairly bland as Fastow but then he is playing a CFO. Alex Egan and Ferrell Marshall settle for playing Texan caricatures as Enron founder Ken Lay and executive Claudia Roe. The ensemble is energetic in their multiple roles. Viverito's set & sound design and Tiger Reel's animations and projections keep the eyes and ears occupied when the mind wants to wander off under the barrage of endless accounting jargon. I would recommend Enron only to dyed in the wool numbers geeks or aspiring CEOs & CFOs currently in business school. For the rest, reading your relatives' tax returns would probably be more fun.

The Lex Theatre, 6760 Lexington Ave. in Hollywood. Ends June 28. 800-838-3006 or theprodco.com.