Eric Coble has written an intriguing play about modern living, loneliness, nature versus commerce and a whole lot more. In its West Coast Premiere of My Barking Dog, The Theatre @ Boston Court has delivered an amazing 90 minutes of mesmerizing theatricality. Director Michael Michetti has once again worked his magic and gathered together a stellar duo of actors and complemented them with top drawer technical talents.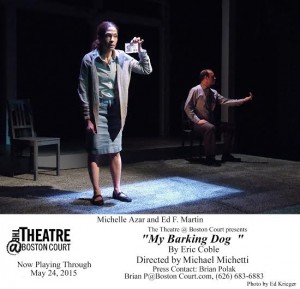 The play begins with a series of alternating monologues by Melinda (Michelle Azar) and Toby (Ed F. Martin). She is a drudge at a local printing house, mindlessly feeding paper into the presses that produce CD inserts. She proudly states that her photo ID looks the same as when it was first taken 14 years ago. She prefers to work the night shift when, except for the janitor, she is usually alone with her thoughts, even if the monotony sometimes has her considering feeding her hand into the printing press along with the paper. Toby was an office manager until nine months ago. He has been seriously looking for work every day since and disheartened to find there are hundreds of other unemployed people applying for the same jobs he is. With dwindling financial reserves and a hand me down computer, he walks around his apartment searching for a neighbors' Wi-Fi to steal to aid in his endless job hunting. Sometimes he finds the best reception hanging over the edge of his sixth floor balcony. Sometimes he thinks about just letting go.
These drab, uneventful lives change irrevocably one night when they each spot a coyote venturing onto their stairs. Melinda begins to buy raw hamburger meat and leaves it as an offering which the coyote gratefully accepts. Toby soon joins her in the nightly watch for their new four-footed friend. Melinda takes more day shifts; Toby begins to sleep during the day so he can stay awake for the late night visits. One night, when Melinda is at work, Toby invites the coyote into his apartment. He wakes up naked on the floor the next morning. Did he really have sex with the coyote or was it just a fevered dream?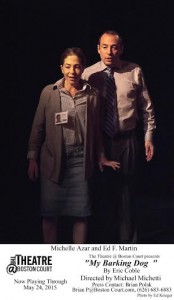 Coble ratchets up the fantasy aspect but the actors and director keep it firmly grounded in the reality they have established. Toby is suddenly ravenous and has a freezer full of dead squirrels, moles, opossums and other offerings his four legged mate brings to him. Can he really be pregnant? And how many pups are in a coyote litter? He begins to spend his days searching the nearby park, hoping to find his coyote lover. Meanwhile Melinda has turned into an eco-terrorist, burning down abandoned buildings and vandalizing tennis courts and baseball fields in an effort to create more wildlife environs in the city. How will it all end? See for yourself and marvel at the brilliance of Coble's writing and the dexterity with which Azar and Martin create their very believable characters. The trajectory of these characters' story arc is brilliantly enacted by the dynamic duo.
Tom Buderwitz's scenic design slowly morphs from stark urban blandness to the wild freedom of nature. Tom Ontiveros' lighting design perfectly enhances the mood. See My Barking Dog and join the audience in howling its praises.

The Theatre @ Boston Court, 70 N. Mentor Ave. in Pasadena. Ends May 24. 626-683-6883 or www.bostoncourt.org