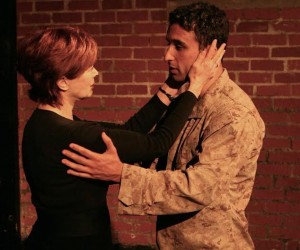 Frances Fisher and Anthony Rey Perez (photo by David Sobel)
Any performance of Angeliki Giannakopoulos' World Premiere of My Child: Mothers of War is sure to be heart-wrenching if you are a parent of a child in the military, or the relative or friend of someone in the military or if you have a heart any larger than that of a Grinch. But on the eve of the Memorial Day Holiday, when our nation is supposed to pause and pay tribute to those who lost their lives to defend our freedom, it proved especially memorable. The capacity audience at the Hudson Backstage Theatre was seeing the fifth performance of this "staged concert reading" that writer/director Giannakopoulos adapted from her award-winning documentary of the same title. The audience, especially the female contingent, found it difficult to control their emotions as the actresses, dressed somberly in black, sat in front of music stands with their scripts and created indelible portraits of six American mothers whose sons went off to war after 9/11. The mothers were a cross section of the American melting pot—Caucasian, Black, Latina and even an immigrant from a republic of the former Soviet Union. The one thing they had in common was having young sons leave home eager to fight in a war. A war to free the people of another country as a misguided attempt to pay retribution to the loss of American lives in the massive terrorist attack on our own soil.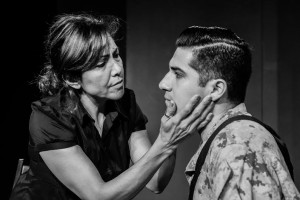 Laura Ceron and Juan De La Cruz (photo by Rydell Danzie)
The sextet of actresses I viewed consisted of Laura Ceron, Anne DeSalvo, Monique Edwards, Frances Fisher, Amy Garis and Jean Smart. Viewing their script minimally, they created vibrant, individualized women and grabbed your heart and soul and never let go. They were unique and different and yet universal. They were marvelous to experience. Giannakopoulos gave the "reading" a distinctive feel by adding a corps of nine "marines" to the storytelling, giving her "mothers" flesh and blood "sons" to interact with. Her staging also allowed for the audience to experience some of what the young soldiers were experiencing in Iraq. The play runs just over an hour but the emotions will stay with you for a lot longer.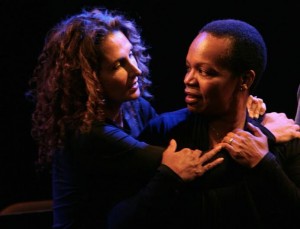 Melina Kanakaredes and Monique Edwards (photo by David Sobel)
Fisher is scheduled for the final three Sunday evening performances along with other rotating cast members Melina Kanakaredes and Mimi Rogers. Jean Smart will rejoin the cast for the June 14 finale.

Hudson Backstage, 6539 Santa Monica Blvd. in Hollywood. Ends June 14. www.plays411.com/mychild