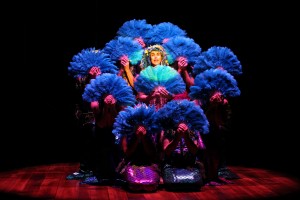 Busby Berkeley Mermaids (photo by Debora Robinson)
I have been singing the praises of Orange County's South Coast Repertory for over 40 years now. I seem to always be telling newcomers and anyone who asks that SCR is by far the best theatre in Southern California year after year. In the 29 years I have presented the Robby Awards, they have probably won more than twice their nearest competitor. There were years when they would easily take home over a third of the awards given. This past year they continued their winning ways when their production of The Light in the Piazza won four awards. If they present a World Premiere, which comprise nearly half of the shows they produce annually, I've learned I don't need to run to see it at another theatre because SCR undoubtedly gave it the best production possible. This was true with Margaret Edson's Wit as well as Donald Margulies' Sight Unseen and Collected Stories. They produced memorable revivals of Arthur Miller's The Crucible and A View from the Bridge, George Bernard Shaw's Major Barbara and Misalliance, Noel Coward's Hay Fever, William Shakespeare's The Taming of the Shrew and Moliere's The Misanthrope to name just a few.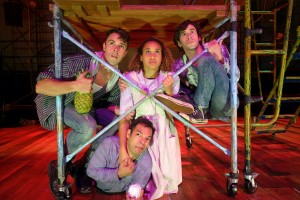 Miles Fletcher, Paco Tolson, Gabrielle McClinton and Wyatt Fenner (photo by Ben Horak)
They are currently closing out their 51st season with Rick Elice's Peter and the Starcatcher. Based on The Starcatcher novels, the play is a prequel to the immortal tale of J.M. Barrie's Peter Pan. Under the skillful direction of Art Manke, the show is pure theatrical magic, the kind you never want to end. The tale is told in the classic Story Theatre style—a group of performers comes into an empty warehouse and with a few props and their ingenuity are soon whisking us away to the high seas and an exotic jungle island for an epic adventure. There are sadistic orphanage managers and evil ship captains, a crew of bungling pirates, orphans, restless natives, giant crocodiles and true blue English patriots. There is mystery, magic, the first bloom of love and mangled language. It's sheer delight from start to finish. There are even a few songs, including an all mermaid Busby Berkeley style dance number (choreographed by director Manke) to begin Act Two. Musical Director David O on keyboards and Joel Davel on percussion provide great sound effects throughout. Michael B. Raiford's stark industrial scenic design easily transforms into many various locales. Jaymi Lee Smith's colorful lighting highlights the comic antics and Michael K. Hooker's sound design makes sure not a word goes unheard. Angela Balogh Calin designed the fun costumes that easily transform the talented ensemble into their various characters.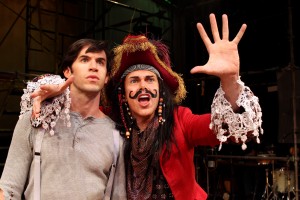 Wyatt Fenner and Matt McGrath (photo by Debora Robinson)
Wyatt Fenner is pure unadulterated innocence as Boy, the orphan who doesn't even have a name to call his own until his adventures christen him Peter Pan. Gabrielle McClinton as Molly, the 13 year old hero of the tale, has plenty of spunk, and even curmudgeon Lou Grant would like her style of spunk. These two young actors play off each other very well. Of course the show is stolen by the dastardly Black Stache, the pirate with tremendous facial hair. Matt McGrath relishes the foppishness of the role, giving Jack Sparrow a run for it. The pirate captain has a firmer grasp on his upper lip follicles than he has on the English language. While not quite Mrs. Malaprop, Black Stache is a close relative of Christopher Durang's word challenged female therapist in Beyond Therapy. "No man is an archipelago."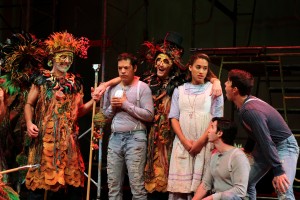 The Mollusks (photo by Debora Robinson)
Another scene stealer par excellence is veteran Tony Abatemarco who plays the busty, lusty nanny, Mrs. Bumbrake. Good support is given by Kasey Mahaffy as Smee, the Stache's right hand man, Paco Tolson as the orphan who would be leader Prentiss and Miles Fletcher as the food obsessed orphan Ted. Christian Barillas savors his turn as Fighting Prawn, head of the native Mollusks, who had been enslaved in England as a chef and whose love of Italian cooking carries over to his speech. Manke keeps a light but tight directorial rein on his merry band of actors and they seem to delight in playwright Elice's inventive script. Soar to the heights with Peter and your funny bone will thank you.

South Coast Repertory, 655 Town Center Dr. in Costa Mesa. Ends June 7. 714-708-5555 or www.scr.org.