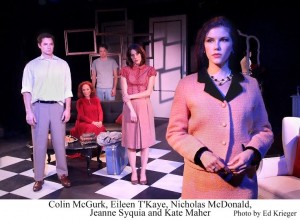 It just doesn't seem possible that it has been 25 years since Wendy MacLeod's The House of Yes made its Los Angeles debut at the Las Palmas Theatre. This very dark comedy about a very sick and twisted family, neighbors of one of the Kennedys in McLean, Virginia, was originally subtitled A Suburban Jacobean Tragedy. That has never been truer than in the stunning and uproarious production under the deft direction of Lee Sankowich at the Zephyr Theatre in Hollywood. Even though another two and a half decades have passed since the assassination of JFK and even Jackie O is no longer with us, that fateful event in 1963 Dallas still holds a macabre fascination for many. Even for those who weren't alive to experience it first-hand. That was very true of the Pascal family in the mid-1980s. Fraternal twins Marty (Colin McGurk) and Jackie-O (Kate Maher) may have confused or fused the events of that day in their young minds. Not only did JFK leave that day, but so did their father—was it divorce or is he buried in the back yard.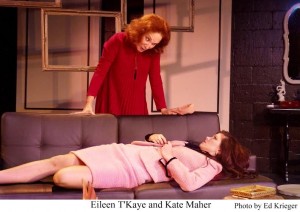 You won't get help deciphering any of the family secrets from Mrs. Pascal (Eileen T'Kaye) who keeps lubricated with liquor while dropping lines such as "Jackie-O emerged from my womb with her hand on Marty's penis. Of course they are close." Youngest son Anthony (Nicholas McDonald) is cute but not very sharp. He dropped out of Princeton after two months to come home to help take care of Jackie-O who has been out of the mental hospital for only six months. It's his job to make sure she takes her meds but he's easily confused. It's Thanksgiving and even though a hurricane is blowing through the area, prodigal son Marty is returning home for the holiday and bringing a guest. He's been in New York for over six months, trying to restart his life after being shot by his twin. And when his guest turns out to be his fiancée Lesley (Jeanne Syquia) the family is thrown into its own maelstrom.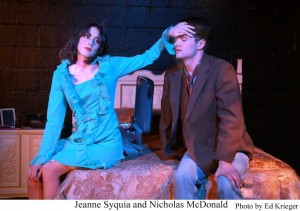 Jackie-O greets Marty's news with a primal scream that devolves into a maniacal laugh that sends shivers up your spine. Maher delivers a brilliant performance–glamorous, manipulative, classy, sexy, and incestuous nut case all at the same time. When she dons the pink outfit and the pillbox hat, the audience collectively holds its breath. Since attending a costume party as the fabled couple in their last tragic moments, the twins have often enacted the scene, complete with gun, as foreplay. T'Kaye's mother is a dragon lady mixed with Mommie Dearest, all dripping with acidic wit. McDonald's Anthony is overshadowed by his siblings but he has a few tricks of his own, milking his youthful innocence for all he can garner from it. Syquia's Lesley is the outsider, barely able to hide her nervousness about her humble background from this nest of status conscious vipers. But she's a quick learner and she uses her moral purity as her weapon of choice. McGurk is saddled with the least developed character. His Marty reacts to the others and rarely takes the initiative, but McGurk delineates his ambivalence to his past as well as his hopeful future. If you are not easily shocked and enjoy superb writing, directing and acting, visit The House of Yes.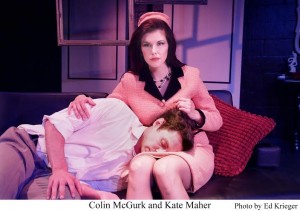 Zephyr Theatre, 7456 Melrose Ave. in Hollywood. Ends June 14. 323-960-5563 or www.plays411.com/houseofyes