(This show was originally reviewed at part of the Hollywood Fringe Festival. It is currently playing through August 30 at the NoHo Arts Center in North Hollywood. www.plays411.com/adam)
The Sixth Annual Hollywood Fringe Festival is presenting over 275 offerings this June, everything from one-person shows to new looks of plays by major playwrights such as Lee Blessing, William Shakespeare, Jean Anouilh, Harvey Fierstein and John Patrick Shanley as well as new plays and musicals being brought to life for the first time. You never know what you might get when you decide to choose a show. But the price is reasonable and the time spent, usually 90 minutes or less, is not that big a chunk out of your life.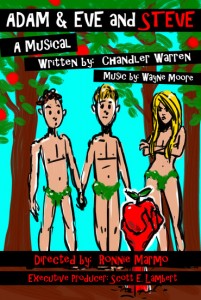 You can often find a sparkling gem amid all the glitter and glitz, hustle and bustle of the Fringe. That was the case when I viewed Adam & Eve and Steve, a new musical with book and lyrics by Chandler Warren and music by Wayne Moore. It was cute, charming, creative, filled with laughs and some beautiful songs. The cast of five were perfect. It's a very pleasant way to spend an hour and a half.
The scene is the Garden of Eden, shortly after God created Adam. The Devil, or Beelzebub as he prefers to be called, has already been cast out of heaven and is seeking sweet revenge on God. When Beelzebub learns of God's intention to make a female mate for the lonely Adam and he works some devilish magic of his own. Instead of Eve, Yves arrives on the scene. He and Adam hit it off splendidly. Yves' name causes some confusion because, even though it is French, it sounds too similar to Eve so he's re-christened Steve. When Eve finally does arrive on the scene, the battle is on for the heart and loins of Adam.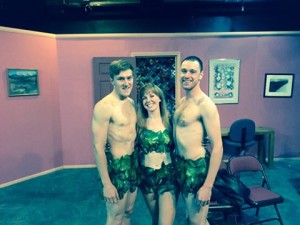 Michael Spaziani, Kelley Dorney and Jotape Lockwood
Warren's book has tongue firmly planted in cheek throughout and he mixes in modern and show biz references to this tale set 200,000 years ago and they work beautifully. It's because nothing is really forced in the writing or in the light-hearted direction of Ronnie Marmo. Michael Spaziani is boyishly charming and innocent as Adam. His loneliness of being the first human, his unbridled joy with first Steve then Eve and his abject despair at having to choose between them is wonderfully delineated in his performance. He has a lovely singing voice and his rendition of "A World Without Love" touches the heart. Kelley Dorney's Eve is a real spitfire, especially once she has bitten into an apple as she proves in "I'm Electric". Jotape Lockwood as Steve steals the show. Think a very gay and socially adept Sheldon from TV'sThe Big Bang Theory. His delight in dreaming of buying furniture with Adam in "With You" is a joyous romp. And the boys discovering "You Look Like Me" gives Tara Raucci a chance to show off her choreography. Composer Moore gives the cast great accompaniment on piano during the show.
Weston Nathanson does a devilishly fine job of bringing out of the dry, droll humor in the character of Beelzebub. William Knight is the stentorian voice of God who finally appears in Eden. These two old pros perform an enchanting soft shoe, "A Song and Dance Man." Adam & Eve and Steve already has a booking at the NoHo Arts Center in July but be among the first to see it at the Fringe.

Lillian Theatre, 1076 Lillian Way in Hollywood. June 12,21,27. www.hollywoodfringe.org