Northanger Abbey was the first novel Jane Austen completed for publication but for various reasons it was not published until after her death. Even though the U.K.'s BBC and ITV both filmed versions, with the latter shown on PBS, it remains Austen's least known work. Stina Pederson has adapted the novel for the stage, updating it to modern day Los Angeles and even effecting a sex change on one of the major characters. The one-hour Catherine is part of the Hollywood Fringe Festival. Krista Amigone's direction keeps the action flowing smoothly and quickly in this Ray Burley Productions' offering. It would be interesting to see a fleshed out fuller version of this adaptation.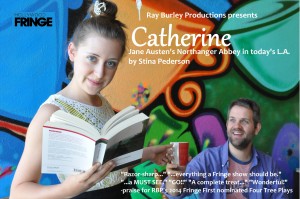 Catherine Morland (a spunky Allison Powell) is newly arrived in Los Angeles from Wisconsin and working at Tea & Sympathy, crashing in a back room until she is able to afford her own place. She loves L.A.'s weather (wearing shorts in January) and its palm trees. She meets a kindred spirit when Henry Tilney (Brendan Weinhold), a film editor comes in for tea. She also meets the manipulative Isabella Thorpe (Amy Schumacher) who takes Catherine under her wing. She tries to fix Catherine up with her brother John (Taylor Behrens) but he's a bit too crass and full of himself for Catherine's liking. John is visiting from college along with Catherine's older sister Jamie (Kirsten Bucino) who is soon engaged to girlfriend Isabella. John and Isabella keep sabotaging Catherine's budding romance with Henry and her friendship with his sister Eleanor (Tehana Weeks). Relationships change and evolve and engagements end and Catherine discovers the Tilney estate, Northanger Abbey, is not as mysterious as she had hoped from her gothic novel reading.
It's a cute, clever riff on Austen's work and the cast acquit themselves well with Powell and Behrens faring best. These characters seem to fit quite naturally into the world of cell phone texts and L.A. sunshine and road trips to Hearst Castle. Weinhold's Henry is a bit stiff, more like his British antecedent than an Angeleno in the film biz. It's a minor quibble for this promising endeavor.

Elephant Studio, 1078 Lillian Way in Hollywood. June 11, 12, 14, 15, 17, 18, 19, 21, 23, 24, 26, 27. www.hollywoodfringe.com