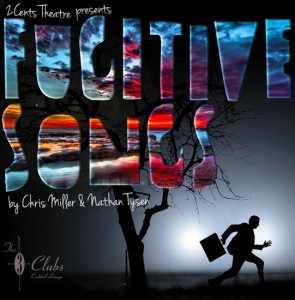 Everybody has dreamed of running away—from home, from work, from a relationship, from drab and confining lives. Most have never done it because of a deep sense of commitment or just a good case of fright that what we are running to may be worse than what we are running from. But the six characters in Chris Miller (music) and Nathan Tysen's (lyrics) song cycle Fugitive Songs, presented by 2Cents Theatre Group at the Hollywood Fringe Festival, do it for us. There is an exhilarating sense of liberation in both the music, the sentiments expressed and in the performances of the talented sextet. Kristen Boule's direction keeps the action flowing all around the environs of the Three Clubs room, in front of as well as behind the capacity audience. It's the best use of the space I have encountered in the several shows seen there. The musical direction by Joshua Eli Kranz is exemplary, the four-piece live band—piano (Sandy Chao Wang), guitar (Tim Friedlander), bass (Krishnan Swaminathn) and drums (Tobias Urbanczyk)—give the piece the feel of a rock concert without overpowering the vocals.


Reagan Osborne, Katy Harvey, Juan Lozano, Jessica J'aime, Tiffany Asta, Michael Noah Levine
The show is very reminiscent of Jason Robert Brown's Songs for a New World, which was one of the best productions I viewed at the 2014 Fringe. Fugitive Songs is one of the best of this year's Fringe. Don't miss it. There are ballads and up tempo numbers, heartbreakers and laugh-out-loud funny tunes. There are group numbers, solos, duets, trios and every manner of grouping in between. It's a very inventive and involving piece of musical theatre. The entire company forcefully gives their "Reasons to Run" in the opening number. Each cast member gets several moments to shine, displaying their versatility and range. Juan Lozano delivers the plaintive "Getting There" and joins with Reagan Osborne and Michael Noah Levine is the haunting "Kansas Highway Sky." Osborne gets to bemoan the fact he's spent more time living in "Washington Heights" than he would have liked while also trying to forget an ex in "Passing Tracy." Levine disses his job as a West Virginian sandwich artiste in "Subway Song."
Tiffany Asta delivers the laughs with "Annie's Party," wearing her formal dress and long white gloves, and also hiking the Appalachian Trail in "Lost." Katy Harvey gets carried away with "Spring Cleaning," tossing out her boyfriend with the rest of the trash. She teams up with Jessica J'aime in the ode to Patty Hearst, "Poor Little Patty," and delivers the soulful "I Could Go Back." J' Aime also duets with Lozano on the lovely "Wildflowers". There are some wonderful songs here, sung with verve by a strong ensemble and really worth making the effort to see as part of your Fringe going itinerary.

Three Clubs, 1123 Vine St. in Hollywood. June 20, 21, 25, 28. www.hollywoodfringe.org