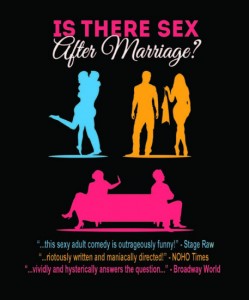 Writer/director Jeff Gould has previously explored the complexities of male/female sexual relationships in his long-running comedy It's Just Sex. Now he asks Is There Sex After Marriage? The show, which had a long run in North Hollywood earlier, is being presented as part of the Hollywood Fringe Festival. The answer would seem to be a resounding "Yes" for at least two of the three couples in the fast-paced comedy. It's surprising how much territory Gould and his sextet (no pun intended) of actors cover in 75 minutes.
Long time married couple Roger (Jeff Witzke) and Sherry (Challen Cates) are entertaining two other couples on a Saturday night when Roger drops a bombshell—he thinks their sex life is boring. Joe (Vince Duvall) and Mindy (Melinda Hughes), who are constantly putting each other down, admit their sex life is virtually non-existent according to Joe. Newlyweds (8 years and counting) Zach (Joel Berti) and Beth (Lisa Marie Summerscales) can't seem to keep their hands off each other and state they have sex a minimum of five times a week. Sherry is an environmental activist and just doesn't have time to give Roger the sex he feels he needs. They decide that they are both free to pursue other outlets.
Within in a week both have brought back sex partners—sexually frustrated co-worker Tammy (Summerscales) for Roger and Sherry's activist man hunk Bob (Berti). But neither spouse consummates their tryst. However they soon innocently find themselves at a swingers' party where they discover the secret to Zach and Beth's successful marriage. This eventually leads to more complications for both couples much to the chagrin of Mindy and especially Joe who feels left out of the sexual hijinks. Gould keeps the pace moving swiftly and his cast delivers the laughs. Summerscales is especially funny as the inhaler using Tammy and Hughes voraciously attacks the role of sex predator Karen at the swingers' party.

Theatre Asylum, 6320 Santa Monica Blvd. in Hollywood. June 12, 14, 20, 21, 24, 25, 27. www.hollywoodfringe.org