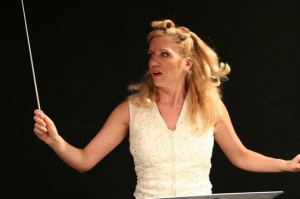 Before Lena Horne, before Oprah Winfrey, before Whoopi Goldberg there was Ina Ray Hutton breaking barriers. Although she passed as white for most of her career, she was born Odessa Cowan on the South Side of Chicago and listed as "mulatto" on early census reports. Even though she was one of the biggest celebrities of the 1930s & 1940s, almost no one knows her story today. Melissa Ritz is out to change that with Journey of a Bombshell: The Ina Ray Hutton Story, one of the true gems of the 2015 Hollywood Fringe Festival. Ritz researched her subject and wrote a 75-minute tune-filled entertaining biography. She sings and acts and dances her way into your heart. Julie Kline is credited as Script Developer and Director and together the duo forged a very fast-paced, informative musical tribute to a pioneer.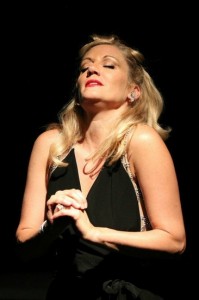 Little Odessa was a tap dancing marvel at a young age, discovered by child talent promoter Gus Edwards and taken to New York at the age of eight. When she was fourteen she made her Broadway debut at the Palace Theatre and by seventeen she was in the Ziegfeld Follies. When she was eighteen, manager Irving Mills made her the conductor/singer for one of the first all-female swing bands, The Melodears. It may have been a novelty act but they drew bigger audiences than most of the all-male big bands on the circuit. Now rechristened Ina Ray Hutton, she conducted the 14-piece band with her whole body. Known as the "Blonde Bombshell of Rhythm" and getting no respect as a serious musician after five years touring with the Melodears, Hutton formed an all-male band to conduct. World War II drafted most of her band but she managed to perform for the USO. In 1951 she was the first woman to front her own TV show, first locally on KTLA for four years then nationally on NBC for one more year. She also found time for six husbands.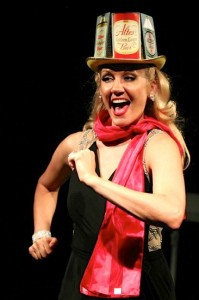 All this information is succinctly delivered by Ritz in interviews with off-stage reporters and in scenes in which she enacts all the characters. It is an intriguing story well told and Ritz is up to the task. It's an all stops out performance. She also delivers some great jazz/swing songs, most also forgotten by today's audiences. "When My Sugar Walks Down the Street," "Milkman Keep Those Bottles Quiet," "Five O'clock Whistle," and "Knock Me a Kiss" are just some of the 18 numbers featured in the show. Melissa Ritz and Ina Ray Hutton deserve your attention. You will love meeting them both.

Ruby Theatre in the Complex, 6476 Santa Monica Blvd. in Hollywood. June 21. www.hollywoodfringe.org