Marry Me A Little is a put together of songs discarded from early Stephen Sondheim musicals and was first performed off-off-Broadway in 1980. Playwright Craig Lucas had been a chorus member in the Broadway production of Sweeney Todd and found out the composer had a backlog of "trunk" or cut songs from his earlier shows. Along with director Norman Rene, Lucas fashioned a 17-song, 70-minute 2-character chamber musical. A young man and a young woman live above/below one another in New York and both find themselves alone on a Saturday night. The characters never meet, they only interact with each other in their dreams and fantasies. It's a charming little musical that Good People Theater Company is presenting as part of the Hollywood Fringe Festival.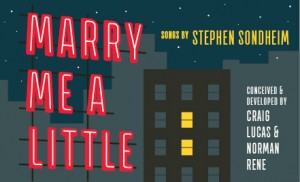 I was lucky enough to see the Los Angeles Premiere that producer Edmund Gaynes presented at the old Met Theatre on Poinsettia Place in 1983. As I remember saying in my review at that time, Sondheim discards better songs from his shows than most composers leave in theirs. That goes double for today's crop of composers. Besides songs from his first musical, Saturday Night, which was written in 1954 but never produced until the 1990s, the show contains multiple gems from Company, Follies and A Little Night Music as well as a song each from A Funny Thing Happened on the Way to the Forum and Anyone Can Whistle. If you are a Sondheim aficionado and know the scores to these musicals, you can just about tell what characters the songs were written for and where they were originally supposed to fit into the show. If you are not familiar with Mr. Sondheim's work, shame on you. See this show as a beginner's class in all things Sondheim.
The conceit of the show's set has always been that the two characters share the same space, only one apartment is on the second floor and one on the third floor. Director Janet Miller's staging starts off a bit awkwardly with The Man and The Woman each several times approaching the shared bed from the rear, then scooting themselves or crawling across the bed to sit on the front side when they could have just as easily sat on the front of the bed to begin with. Also the actors use the same book, phone and laptop, often one setting the prop down and the other immediately picking it up. This gives the wrong impression that they are actually in the same space. Nitpicking for sure, but then my title is critic.
Musical director Corey Hirsch provides excellent accompaniment on keyboards and plays constantly through the show's running time. Jessie Withers possesses a great vocal range with a lilting soprano as well as a big belt. Her rendition of "Marry Me A Little" is the show's highpoint. She has fun with the flirtatious "Can That Boy Foxtrot" as well as the sultry "The Girls of Summer". David Laffey's solo voice was not as strong as his partner's but they blended well together on such numbers as "All Things Bright and Beautiful," "So Many People" and "Your Eyes Are Blue". However his dance moves on "Uptown, Downtown" were overly frantic.

Lillian Theatre, 1076 Lillian Way in Hollywood. June 11, 14, 19, 20, 21, 24, 27, 28. www.hollywoodfringe.org.