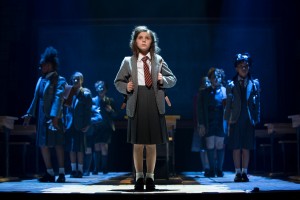 Mia Sinclair Jenness (all photos by Joan Marcus)
British novelist Roald Dahl wrote a series of children's books that were known for their unsentimental outlook and very dark humor. What works in the pages of a book is largely the result of the reader's imagination. When those ideas are translated to a big Broadway production like Matilda The Musical (beginning its National Tour at the Ahmanson Theatre courtesy of the U.K.'s Royal Shakespeare Company with a book by Dennis Kelly and music & lyrics by Tim Minchin) it comes across more as child abuse, both physical and mental. The young students depicted herein would seem to have more fun and a happier life in Dickens' Oliver Twist. Even Annie's Miss Hannigan had a softer touch when dealing with her little girls than Miss Trunchbull (Bryce Ryness), who at times hurls her little charges around as if they were one of the hammers she threw in the Olympics.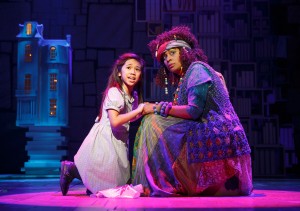 Gabby Guiterrez (one of the three girls playing Matilda at various performances) and Ora Jones
The children, especially Matilda (Mia Sinclair Jenness at the opening night performance), seem to spend the entirety of their lives seeking revenge on the adults—substituting dye for hair tonic, gluing hats, placing newts in drinking water, etc. The only advisory given to the multitudes of children in the audience to "don't try this at home" was regarding the reading of books. I must admit I am the wrong audience for this type of show. Although I think I still possess a youthful outlook on life and have always enjoyed dark, twisted humor, this outing just didn't work for me 98 per cent of the time.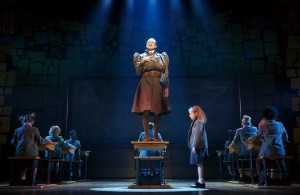 Bryce Ryness and Mabel Tyler
Matilda is a five year old "genius" who knows her times tables and how to read before she ever sets foot in a classroom. This is not due to her home life where her father (Quinn Mattfeld) keeps referring to her as "boy" and discourages her book reading while encouraging her telly viewing. Her mother (Cassie Silva) is so neglectful and dedicated to her ballroom dancing that she didn't even realize she was nine months pregnant. She's never forgiven Matilda for keeping her from a dance competition to give birth instead. Matilda finds solace and friendship at the library where Mrs. Phelps (Ora Jones) encourages her reading and most especially her story telling. Matilda also finds a champion in Miss Honey (Jennifer Blood), her young brow beaten teacher. Part way through Act Two Matilda reveals she has the gift of telekinesis (cue Carrie at the prom jokes) and there is an eventual happy ending for the child.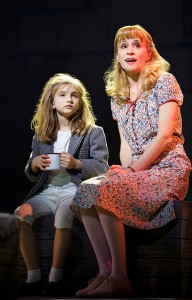 Mabel Tyler and Jennifer Blood
Rob Howell's set design of interlocking panels of books and children's alphabet blocks provides an appropriately dingy setting with a few flashes of color now and then. Matthew Warchus' direction is heavy handed and the mood throughout is dour and uninvolving. The high-pitched voices of the young cast members, along with their heavy British accents and the muddled sound design by Simon Baker, make most of their dialogue and lyrics unintelligible. This is compounded during Matilda's storytelling of the tale of The Escape Artist and The Acrobat. Matilda keeps speaking over the dialogue of Justin Packard and Wesley Faucher so that much of what is spoken is not clearly heard. Most directors would have Matilda go silent at those moments when her characters are speaking for her.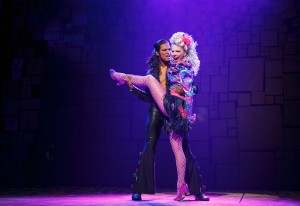 Cassie Silva and Jaquez Andre Sims
For the most part the songs are unmelodic and mundane, as grey as nearly everyone's costumes (designed by Howell). One exception is the glorious and joyous "When I Grow Up" which begins Act Two. The children, both young and older take to swings and show that this cast (who are fully committed to their outré characters) and director have the ability to soar if they so choose. The other exception is courtesy of Peter Darling's choreography as he puts Silva and Jaquez Andre Sims through their frenetic ballroom steps in "Loud." For this viewer, those two moments, probably a mere ten minutes of the two-and-a-half hour running time, were theatrical magic. Matilda The Musical was a hit in London, a hit on Broadway where it is entering its third year and will probably be a hit on tour. But it was not a hit with this viewer and some others around me on opening night. There were quite a few empty seats for Act Two.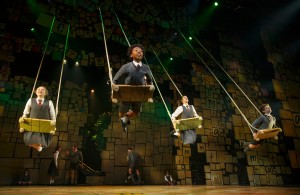 Ahmanson Theatre, 135 N. Grand Ave. in Los Angeles. Ends July 12. 213-972-4400 or www.centertheatregroup.org.