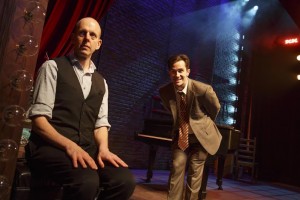 Jeff Blumenkrantz and Brett Ryback (all photos by Joan Marcus)
Joe Kinosian and Kellen Blair have crafted a madcap musical murder mystery comedy for two extremely talented performers to enact for 95 frantic minutes. Their Murder for Two is currently on the stage of the intimate Audrey Skirball Kenis Theater at the Geffen Playhouse. The show premiered at the Chicago Shakespeare Theater and, though it won the Chicago critics' award for Best New Musical Work I find it difficult to classify it as a musical. Kinosian provided the music for Blair's lyrics but the songs are often more recitative than full out musical theatre songs. Plus they are instantly forgettable. The show is a wild farce—part British Music Hall revue, part commedia dell'arte, part twisted Agatha Christie with a soupcon of naughty Mel Brooks' humor. The constant breaking of the fourth wall becomes an annoyance and though director Scott Schwartz's pacing never flags, it does become a bit wearying, not only for the actors who are drenched in sweat before the halfway mark, but also for the audience. It is chock-a-block with laughs and sight gags and provides a great evening's entertainment.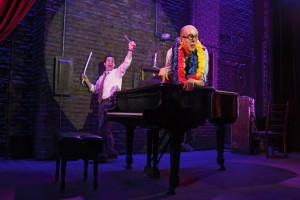 Beowulf Boritt's scenic design resembles a music hall stage and the main prop is a piano which both actors play wonderfully and energetically throughout the proceedings. The thin plot concerns the murder of a local author who was shot as he entered his creepy mansion for a surprise birthday party. Marcus (played by the boyishly handsome Brett Ryback), a local police officer, is soon on the scene and gets to indulge in his fantasy of being a detective since the real detective is an hour away from the scene of the crime. He rounds up all the suspects, guests at the party and all marvelously played by the uber talented Jeff Blumenkrantz without aid of costume changes or props, except for a large pair of glasses. The suspects include his wife, a Southern belle whose dreams of a showbiz career were crushed by her marriage, a ballerina who was having an affair with the victim, the victim's niece who is studying criminology and develops a crush on Marcus, a bickering husband and wife, three pint-sized members of a juvenile delinquent squad of choir boys and a psychiatrist who knows everyone's dirty little secrets. It seemed he leaked some secrets to the author who then used them in his novels.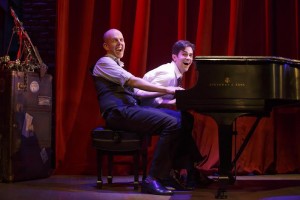 Everyone has a motive and had the opportunity. Will Marcus solve the mystery and earn his badge? Getting there is all the fun. Ryback basically plays the straight man to all of Blumenkrantz's zany characters and the two seem to be perfectly in sync and their joy easily transitions to the audience. Both men also play a mean piano and their double coordination is artfully shown in their curtain call.

Geffen Playhouse, 10886 Le Conte Ave. in Los Angeles. Ends August 2. 310-208-5454 or www.geffenplayhouse.com