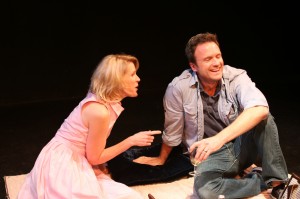 Nan McNamara and Rick Marcus (all photos by Lindsay Schnebly)
Thomas Brandon's Pocket Universe, a one hour one-act play being presented at the Lounge Theatre as part of the Hollywood Fringe Festival, seems to be a simple, familiar, easy to understand outing at first. Roan (Rick Marcus) has surprised his wife Kelly (Nan McNamara) with a picnic in the park. It's a park they are both familiar with since it was near where they lived when they first married, ten years ago, or was it six years ago. Kelly seems to have a bit of a memory problem—they disagree on where they first met among other things. Kelly is sure it was at a party and Roan wore a braided belt and cargo pants she made fun of. He assures her they first met at a bar. Kelly keeps losing track of the conversation and Roan keeps packing and unpacking the picnic supplies. Is Kelly a victim of early onset Alzheimers? Is Roan trying to kick start her memory with this picnic in the park where they shared good times? Or did something tragic occur here that Kelly refuses to remember and Roan tries to keep hidden from her?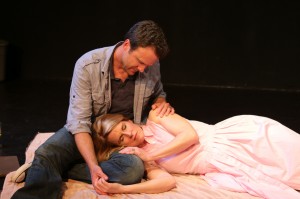 Rick Marcus and Nan McNamara
It's difficult to say more without giving away all the various twists and turns that Brandon has incorporated into his tight writing. Director Rhonda Kohl keeps her actors moving about and helps them navigate the difficult tonal changes in the play. The actors do stellar work and the emotional payoff really delivers. Pocket Universe is one of those rare gems that makes mining the Fringe Festival worth the effort.

Lounge Theatre, 6201 Santa Monica Blvd. in Hollywood. June 20, 21, 26. www.hollywoodfringe.com