Shakespeare's Romeo and Juliet is one of his most popular and most performed plays. There were seven different variations of it in this year's Hollywood Fringe Festival. There was a laughter infused version by the Four Clowns Troupe, one in ASL, as well as a one-person drag performance piece. There was one were the lovers awoke in hell and found they had to listen to "Maria" from West Side Story for eternity. Another had two women performing sketch comedy to the music of Prince. With so many varied options to choose from I chose R&J, a gender-reversed Romeo and Juliet, edited by Hannah Pell and Mary Ellen Schneider for the Mine is Yours theatre company. I think I made a good choice. The text was edited down to a tight 90 minutes under Abby Craden's deft direction. A cast of eight brought the tragic tale vibrantly to life with women playing the usual male roles and males the female roles.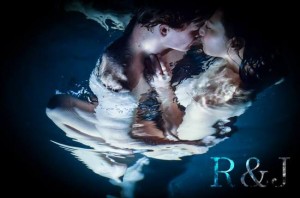 Dane Oliver and Mary Ellen Schneider
Therefore the women came across as the more violent, aggressive and boastful sexual swaggerers while the men came across as more sensitive and vulnerable. Dane Oliver brought a beguiling, tender innocence and budding anticipation to his role as the cloistered Julian, raised more by his gentle, caring Nurse (a touching and comic Alan Blumenfeld) than his macho mother (a forceful Katherine James). James pulled double duty as the gentle and helpful Sister Laurence. As the love-struck Romea, Mary Ellen Schneider mooned properly over her love-at-first-sight fixation and showed a quick temper as the vengeful Montague whose quick action with a knife spelled doom for all.