Stephen Sondheim, widely acknowledged as the greatest and most innovative modern Broadway composer and winner of more Tony Awards (8) than any other composer, has not had a new show open on Broadway since 1994's Passion. The only new show of his that has seen life on stage in the past two decades has been Road Show, which in earlier incarnations was known as Wise Guys, Gold and Bounce. Bounce had productions in Chicago and Washington, D.C. in 2003 while Road Show played off-Broadway in 2008. On Sunday June 14, Los Angeles finally had a chance to see and hear Sondheim's latest thanks to Musical Theatre Guild's one-performance only staged concert at Santa Monica's Moss Theatre.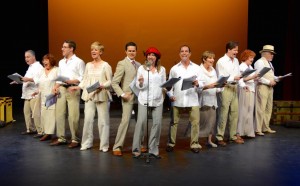 The company of Road Show (all photos by Alan Weston)
Unfortunately Road Show may be an instance of too many cooks thinning the broth. Four different directors and many different performers have been involved with the show's past incarnations. Sam Mendes directed Wise Guys, the original workshop which starred Victor Garber and Nathan Lane as the real life Mizner Brothers. Wilson was a con artist and bon vivant while Addison was a renowned architect. They were involved in various schemes searching for the American Dream from the Alaska Gold Rush in the late 1890s to the Florida land boom and bust of the 1920s. When long-time Sondheim collaborator Harold Prince became involved he requested a major re-write, including the creation of the character of Nellie as a love interest and fellow con artist for Willie. The result was Bounce which starred Howard McGillin and Richard Kind and received a cast recording. The reviews were mixed and another workshop was held with Eric Schaeffer at the helm and Bernadette Peters added to the cast. This went nowhere and finally, with minimalist director John Doyle in charge, a trimmed down 90-minute one-act version entitled Road Show received a run at off-Broadway's Public Theatre with Michael Cerveris and Alexander Gemignani in the leading roles. This version also received a cast recording and was the version finally premiered in Los Angeles.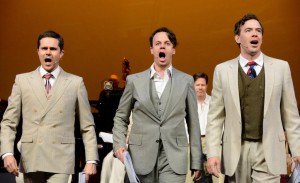 Will Collyer, Craig McEldowney and Zachary Ford
Having never seen any version of the show before but being a big fan of the Bounce recording, I was disappointed in Road Show. This trimmed down version is more Addison's story than Wilson's or even of the two brothers as a team. Sondheim and book writer John Weidman seem to expect modern audiences to come to the show knowing most of the history of the Mizner Brothers whose exploits ended over 80 years ago. There isn't much shown of Willie's success and subsequent failures in Alaska. His New York exploits are also given shorter shrift here and the Boca Raton land bust is never fully explored, only the boom. This version makes it difficult to understand why Addison has such a love/hate relationship with Willie when Willie's leaving Addison holding the proverbial bag time after time is not fully realized. The score has been cut down and good songs lost. A lot of the humor found in Bounce is also missing here, giving the show a much darker tone and subsequently not giving the audience anyone to identify with. Sondheim has also seemed to "borrow" his own tunes from previous musicals, especially Assassins, for use here. That was not the case with the score of Bounce. It's a true puzzlement.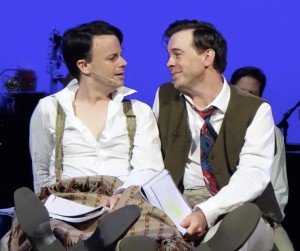 Craig McEldowney and Zachary Ford
However as always the case with Musical Theatre Guild offerings, the cast was sublime, resulting in probably the best sung version yet. Will Collyer's boyish charm helped make Willie's faults nearly likable and his singing voice was superb. He was evenly matched by Craig McEldowney as Addison, whose fraught relationship with his brother is complicated by his romantic feelings for him. Zachary Ford stood out as Hollis, Addison's younger love interest. One good result of this version is that McEldowney and Ford got to deliver one of Sondheim's most beautiful and touching love songs, "The Best Thing That Ever Has Happened," to each other in one of the show's highlights.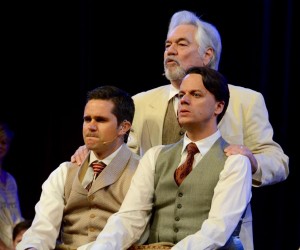 Will Collyer, Michael G. Hawkins and Craig McEldowney
MTG veterans Michael G. Hawkins and Eileen Barnett delivered their usual stellar work as the brothers' parents. Hawkins did a wonderful job with his inspirational call to action, "It's in Your Hands Now," while Barnett plucked the heartstrings with "Isn't He Something!," her paean to her two very different sons. The chorus played a multitude of characters from Alaska to Florida and around the world in such peppy numbers as "Addison's Trip" and "Boca Raton."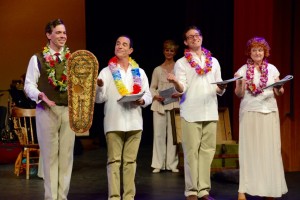 Zachary Ford, Joshua Finkel, Marc Ginsburg and Pamela Hamill
Musical director/pianist Julie Lamoureux and her onstage band really delivered Jonathan Tunick's lush orchestrations. Director Richard Israel kept the action flowing smoothly and created some lovely stage portraits. A. Jeffrey Schoenberg provided the shades of white costuming, fitting for a show that starts and ends in Heaven or a way station on the road there.

MTG is returning to the Alex Theatre in Glendale for their 20th season beginning with Frank Wildhorn and Don Black's Bonnie & Clyde on September 30. They will follow up in November with Richard Rodgers and Stephen Sondheim's Do I Hear a Waltz?, Edward Kleban's A Class Act in February and Richard Adler & Jerry Ross' The Pajama Game in May. www.musicaltheatreguild.com