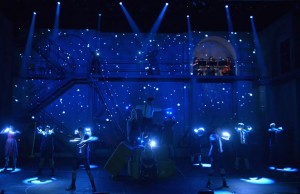 The cast of Spring Awakening (all photos by Kevin Parry)
Last September Deaf West Theatre, in association with The Forest of Arden, created a production that was pure theatrical magic. This reviewer feels privileged to experience the sheer wonderment of such an undertaking maybe once every one or two hundred productions he views. It's truly a very rare event in theatre when the writing, direction, concept, acting and technical aspects all come together so seamlessly to create such heartfelt art. Los Angeles theatregoers who didn't have a chance to see Spring Awakening at the Rosenthal Theatre at Inner City Arts in downtown Los Angeles have another week to catch a much larger but still stunning production at the Wallis Annenberg Center for the Performing Arts in Beverly Hills. Don't miss it. It is sure to be a theatrical highlight of 2015 just as it was in 2014. And if you were lucky enough to see it, you won't want to miss this return engagement.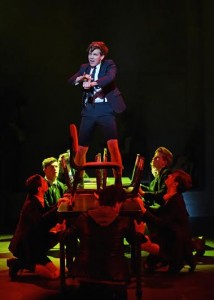 Austin McKenzie
Director Michael Arden and his partner Andy Mientus (now in the cast as Hanschen) came up with the show's concept which is quite different from the original off-Broadway, Broadway and National Tour versions. It's not just that some of the characters are played by hearing impaired actors who sign their roles while doubled with a speaking partner. That adds another layer of duality to their roles, often with one of them urging the other on to some action. It is mesmerizing to watch. Arden has also gotten rid of the use of annoying hand held microphones for the most part—the action is set in 1890s Germany after all. Arden was not tempted to overdo his original concept now that he had a bigger stage and a bigger budget to work with. His direction remains creative, effective and emotionally resonant throughout.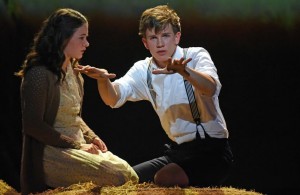 Katie Boeck and Austin McKenzie
The large cast is comprised of non-speaking and speaking cast members, some of whom sing and speak for their non-speaking counterparts while some both speak and sign, while some also play instruments in the band. It might seem complicated but under Arden's delicate, deft and inspired direction it all blends together for a beautiful evening of sobering drama and incandescent enchantment. Steven Sater's book closely followed the plot of Frank Wedekind's controversial German play about the sexual awakenings of a group of teenagers in a provincial town. Although written in 1891 the play was not produced until 1906 because of its plot featuring teenage pregnancy, incest, physical abuse, suicide and homosexuality. Unfortunately these are still hot button issues in many parts of our country today. The score by Sater and Duncan Sheik features hard rock as well as haunting ballads. Musical director Jared Stein and his on-stage band make every note count. Brian Hsieh & John Nobori provided the excellent sound design.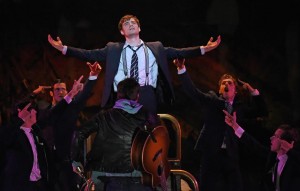 Daniel N. Durant and Alex Boniello
The cast is onstage in modern dress, laughing and talking with each other as the audience enters. As the audience settles in, the cast begins to change into their 1891 German schoolboy and girl costumes by Dane Laffrey. The current cast features many from the smaller production last year. Austin McKenzie as Melchior is the glue that holds the show together. He's a sensitive but rebellious young man who has lost his faith in God and is quickly losing faith in his elders. Daniel N. Durant and Alex Boniello create a deeply troubled Moritz who is badgered by his teachers until failure is the only outcome. Sandra Mae Frank and Katie Boeck pair to craft a confused and questioning Wendla, a girl who can't feel anything, even pain. With a mother who still expects her to believe in storks when her young body tells her differently, her quest can only engender tragedy. This trio is the main focus of the story but there are other standouts in the cast. As the outcast Ilse, Krysta Rodriguez delivers a beautiful "Blue Wind." Mientus, as the gay and sex-obessed Hanschen, leads the cast in "My Junk" and does a lovely duet with Joshua Castille/Daniel David Stewart's Ernst on "The World of Your Body." Howie Seago, Daniel Marmion, Hillary Baack and Natacha Roi lend great support in all the adult roles.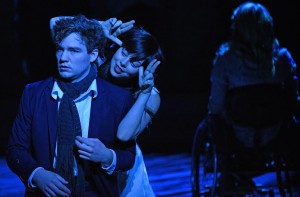 Daniel N. Durant and Krysta Rodriguez
Laffrey also designed the bare bones set that easily transforms to many locales. Spencer Liff provided the energetic choreography. Ben Stanton created the stellar lighting design that is a key element. The show's ending, when the back wall of Laffrey's set opens up to expose a bucolic scene that the young cast head into, is magically transporting. You want to join them in their new world that has to be better than the oppressive one they have been living and dying in.

Wallis Annenberg Center for the Performing Arts, 9390 N. Santa Monica Blvd. in Beverly Hills. Ends June 14. 310-746-4000 or www.thewallis.org