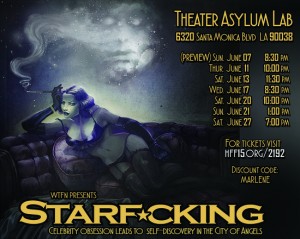 It doesn't matter how old you are, what sex or sexual orientation you are, everyone has at some time and to some degree been fascinated by celebrity. That is the crux of Sharon Lintz StarF*cking, part of the Hollywood Fringe Festival. The five monologues and one two-hander all deal with ordinary folks and their obsession with celebrities, whether they are iconic movie stars, rap artists or just classic genre characters. Lintz's writing is crisp and clean and director Eric G. Johnson and his cast keep the show moving at a nice pace. There are laughs and pathos seamlessly bound together.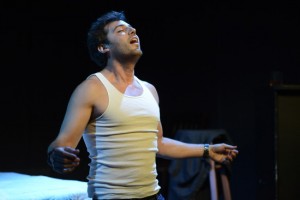 Blaine Vedros
Martin (Stephen DeCordova) is auditioning a woman in his hotel room, probably a call girl since she is eager to take off her blouse. Martin is a man of a certain age, on this third wife who doesn't understand him and longing for the days of glamorous movie stars and big movie palaces such as Radio City Music Hall. His special fascination lies with Marlene Dietrich and how she smoked a cigarette, seemingly smouldering herself in such films as Shanghai Express. Mary (a very Valley Girl-ish Kelly Schumann) relates the tale of the day she spent sharing mushrooms with a porn star. She was doing a favor for a friend, returning a delicate marionette to the home of her friend's aunt, when she stumbled onto the remains of a porno film shoot. It's the evening's funniest bit and Schumann gets every laugh.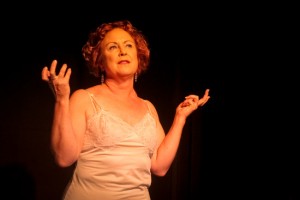 Dawn Joyal
Randy (Blaine Vedros) tells us about an evening spent in a motel room on Catalina Island. Although he's not usually into oral sex with his girl, that night the flashing lights from the neighboring gas station and the smell of an uneaten hamburger made him ravenous. And as he started to devour his girl's nether regions, he saw the face of his idol, Kurt Cobain. You had to be there because Vedros tells it better than I can summarize it.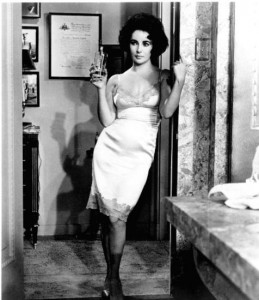 Elizabeth Taylor in Butterfield 8
Ruben (Tory Devon Smith) is home fresh from an expensive lunch with his wealthy older brother. As he strips off his hand-me-down business suit and changes into his more comfortable drag persona he explains his fascination with the white rapper Eminen. Patty (Dawn Joyal) delivers the evening's most poignant monologue. Patty loves to wear slips and pearls (although she can't afford real ones) like her idol Elizabeth Taylor. Especially Taylor in her role as the high-priced call girl in Butterfield 8. We finally discover that Patty is actually in a cancer chemo clinic. But Patty's defiant spirit is as healthy as the sexual nature of Taylor's Gloria Wandrous.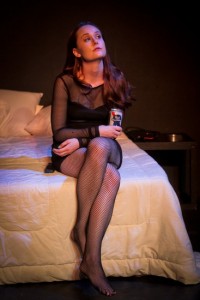 Katy Yoder
The final piece of the show is the longest and least effective. Jake (Ali Allie) and Meagan (Katy Yoder) are in a motel room watching the Sean Connery sci-fi film Zardoz. Jake is paying for Meagan's time as he has for the past three weeks but all he seems to want to do is watch films with her. He especially loves the women of sci-fi like Tina Turner from Mad Max Beyond Thunderdome, Ripley in the Alien films and Princess Leia in her slave girl outfit. They finally connect over the film Paris, Texas which really doesn't fit into the sci-fi genre.

Asylum Lab, 1078 Lillian Way in Hollywood. June 20, 21, 27. www.hollywoodfringe.org