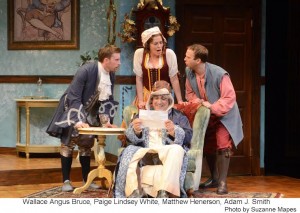 Jean-Francois Regnard is considered "the most distinguished of the comic poets of the seventeenth century after Moliere" yet he is little know and little performed today. He wrote 23 comedies in verse for the Comedie francaise and Le Legataire universelle (The residual legatee) is considered his masterwork. American playwright David Ives hopes to bring Regnard out of obscurity with his adaptation entitled The Heir Apparent, currently being given a rollicking production at Long Beach's International City Theatre. It's a perfect match of material and director with the Troubadour Theater Company's Artistic Director Matt Walker at the helm. The Troubies' blend of classic theatre (mostly Shakespeare) blended with wild improv slapstick and rock music (A Midsummer's Saturday Night Fever Dream for example) is keenly felt in this modernized French farce.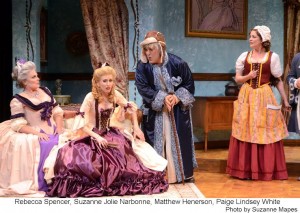 Geronte (a blustery Matthew Henerson) is 70-year old millionaire at death's door. Because he has not yet made a will, his enterprising maid Lisette (Paige Lindsey White) is keeping him alive with tonics and enemas. She has a reason for prolonging Geronte's life—her paramour Crispin (Adam J. Smith) has promised to marry her if his master, Eraste (Wallace Angus Bruce), one of Geronte's nephews, is named the sole heir. That is the condition the battle-axe Madame Argante (Rebecca Spencer) has put on Eraste's plea to marry her daughter and his beloved, Isabelle (Suzanne Jolie Narbonne). A suddenly rejuvenated Geronte announces his plan to marry Isabelle himself and create a new heir. There are also the large bequests he has decided to make to unseen relatives—one living in New York City and another heir to a pork dynasty. Pigs don't exactly fly in the production but there is a Chihuahua masquerading as a pig in a scene in which Isabelle, Eraste and Crispin all show up with pork products to prove how uncouth and unworthy of an inheritance they are. Crispin also shows up in coonskins as the spittoon carrying New Yorker. Then there is the arrival of the very short lawyer Scruple (Adam von Almen) who is made the butt of many a joke. Farce truly is the name of the game here and this cast readily adapts to the fast-paced comic shenanigans.
Smith's manic energy really carries the show as the fast-thinking valet, Crispin, aided immensely by the shrewd and more logical Lisette, played by a beguiling White. Christopher Scott Murillo has designed a lovely set for the farce to play out on and Kim DeShazo has designed some lovely period costumes. The action is set in 1708 Paris but the idiom is very modern. Ives has written the play in rhyming couplets and at the start the line readings seemed forced and unnatural as the cast seems to over accentuate, but it soon begins to sound normal to the ear. At times Ives strains to make his rhymes but overall the show works because of the talents of the director and cast. If you could use a few hours of laughs, The Heir Apparent is the show for you this summer.

International City Theatre, 300 E. Ocean Blvd. in Long Beach. Ends July 12. 562-436-4610 or www.internationalcitytheatre.org