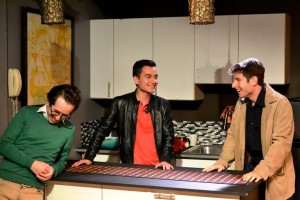 Grey Rodriquez, Carlo Samame and Jordan Wall (all photos by Emma Servant)
Michael Elyanow's The Idiot Box received some glowing reviews in earlier productions in Chicago and Los Angeles. I'm not sure if the playwright has re-written it in since those productions or if those reviewers possessed less critical palates than I and were ready to abandon all sense of believability for a few cheap laughs. What Theatre68 has put on the smaller stage at the NoHo Arts Center is virtually laugh free and requires the audience leave their sense of logic in the lobby.
Elyanow had the germ of a good idea—six sitcom characters slowly come to realize they are living in a world that is sealed off from the reality outside the soundstage. But his writing doesn't deliver either sitcom laughs or bracing reality. Six roommates, including one married couple, share an eight-room penthouse apartment rent free in Manhattan. Think Friends without the laughs, and including a skirt-chasing, intellect-lacking Joey character (Carlo Samame's Billy naughty innocence is one of the productions few bright spots). The play's first thirty minutes or so are taken up with stock sitcom situations but even the canned laugh track doesn't find them very funny. The biggest laugh of the night is generated by the coffee table prop on James Logan's nicely cramped set.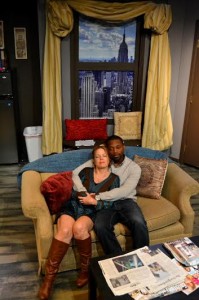 Julie Dolan and Jonte LeGras
Elyanow gives no reason for the encroaching reality in these characters' lives. But soon they are miserable and the play stumbles on interminably. TV sitcom director Rick Shaw's comedy timing is lacking here and his eager cast just can't breathe much life into these stick figures. Julie Dolan as Chloe, the voice of reason, and AJ Brody as Raymond/Ramona fare best among the disparate cast. Jordan Wall's character of Mark is not very funny in the sitcom scenes and although he protests most about the fun-sucking reality, he's the one to talk about the towers coming down on 9/11. Mark also has one of the strangest bits of business. When he decides a boxer short wearing Billy needs to get dressed and out of the apartment, he goes into the living room closet, brings out a duffel bag and proceeds to give Billy his clothes. Billy is one of the apartment's residents with a bedroom of his own. Are there no dramaturges left in theatre?

NoHo Arts Center, 11136 Magnolia Blvd. in North Hollywood. Ends June 27. www.plays411.com/idiotbox