Stanley Ann Dunham (1942-1995) was an American anthropologist who specialized in economic anthropology and rural development. To address the problems of rural poverty in Indonesia she created microcredit programs while working for the United States Agency for International Development. She also worked for the Ford Foundation in Jakarta and consulted with the Asian Development Bank in Pakistan. And she was the mother of President Barack Obama. In an interview he referred to his mother as "the dominant figure in my formative years…The values she taught me continue to be my touchstone when it comes to how I go about the world of politics." You would think she would be an interesting subject but that doesn't seem to be the case in Mike Kindle's one-woman play, Stanley Ann. The play is receiving its World Premiere at the L.A. Gay & Lesbian Center in Hollywood.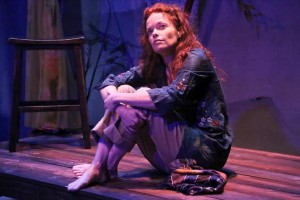 Ann Noble as Stanley Ann (photos by Michael Lamont)
Stanley met Barack Obama Sr. while a student in a Russian language class. He was Hawaii's first black student, sent from his homeland of Kenya to be educated and eventually help guide his newly independent country. At 18, Stanley married Obama and soon gave birth to the future president. She and her husband soon separated—he went to Harvard, she went to college in Washington State. They eventually divorced and she met and married a Javanese student, Lolo Soetoro, and moved with him to Indonesia. It was there she became politically aware when she discovered the American involvement in the military coup that deposed President Sukarno and eventually resulted in the deaths of a half million people.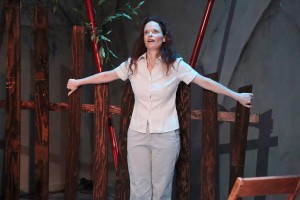 Kindle's play consists of twelve scenes ranging from Stanley's underage canoodling in 1960 to her death from uterine cancer in 1995. The scenes are structured so that Stanley Ann is talking, or more often arguing, with an unseen character. No matter how much director Mark Bringelson and actress Ann Noble try to breathe life into this material, it frequently looks like one of L.A.'s ubiquitous homeless arguing with an imaginary frenemy. Bringelson's staging moves the action around Robert Selander's simple and all-purpose set of platforms and bamboo trees. Matt Richter's lighting design adds needed moods. Noble gives a tour-de-force performance, running a gamut of emotions from childlike wonderment to mature disillusionment and keeps your interest focused in the 90-minute intermission-less play. You just wish she had a better script to work with.


Davidson/Valenti Theatre, 1125 N. McCadden Place in Hollywood. Ends July 26. 232-860-7300 or www.lalgbtcenter.org/theatre