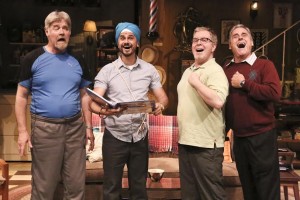 Dennis Holland, Asante Gunewardena, Steve Gunderson and John Racca (photos by Michael Lamont)
Barbershop music was very popular in America in the first two decades of the 20th century. The genre may be due for a major revival if enough people see John Markus & Mark St. Germain's play The Fabulous Lipitones. The show is receiving its California Premiere at The Colony Theatre in Burbank and a near capacity audience at its first Sunday matinee thoroughly enjoyed the comic hijinks of the Lipitones from small town London, Ohio, and their very tight harmonies. A barbershop quartet consists of a lead singer, a bass, a tenor and a baritone and the quartet assembled by Markus, who served as director for this production, harmonizes perfectly after a rough start.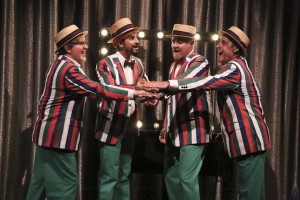 Steve Gunderson, Asante Gunewardena, Dennis Holland and John Racca
The play opens at the funeral of the quartet's lead singer. who died during a recent regional contest, but he held his note until his final breath and the quartet is headed for the Nationals in Reno if they can only find another lead singer for their foursome in two weeks. They hear Bob singing in the background during a phone call to a local garage. He sounds like a perfect fit but when he shows up and proves to be an undocumented turban-wearing Sikh from an undisclosed Middle East location, racism rears its ugly head. Gym and tanning parlor owner and fitness trainer Phil (Dennis Holland) throws racial slurs like darts. He has wanted to leave the Lipitones anyway and this may finally be his exit cue. Bachelor pharmacist Wally (Steve Gunderson) lives at home with mom and hasn't had a serious date since junior prom but is always ready with his pitch pipe. His involvement with a pharmacist only online dating site generates plenty of easy laughs and Gunderson knows how to deliver the chuckles and guffaws. Howard (John Racca) has forever been the peacemaker of the group, afraid to ever make a deliberate decision. He even took back his adulteress wife after her public affair with a Jehovah's Witness. He now waits on her hand and foot as she is confined to a bed with a serious illness. Baba Mati Singh (Asante Gunewardena) is a very amiable fella and his cultural conflicts with the quartet's choice of songs is hilarious. Markus & St. Germain have written a very funny quartet of characters and given them plenty of hearty laughs to deliver. The quartet's singing of barbershop standards is pitch perfect and the show quickly passes under Markus' tight direction.

The Colony Theatre, 555 N. Third St. in Burbank. Ends August 23. 818-558-7000 ext 15 or www.colonytheatre.org