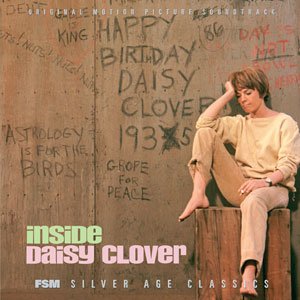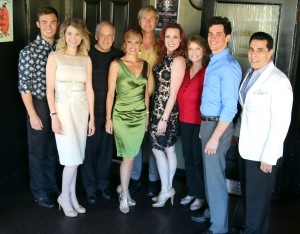 Burk, Visnic, Kimmel, Burke, Griep, Dickinson, Russ, Todd & Sterling (photo by Karen Staitman)
Most people today remember Andre Previn (if they are familiar with the name at all) as a pianist and a conductor (of the Houston, Pittsburgh and London Symphony Orchestras as well as the Los Angeles and Royal Philharmonic Orchestras) or as Mia Farrow's husband when she adopted Soon-Yi (now Mrs. Woody Allen). Previn was also a jazz composer and a film music composer and arranger, receiving 13 Academy Award nominations and winning four times. His one original Broadway musical was 1969's Coco, a star vehicle for Katharine Hepburn. On Sunday, August 2, producers Bruce Kimmel and Adryan Russ presented the 60th Kritzerland show at Sterling's Upstairs at the Federal in North Hollywood. You're Gonna Hear From Me re-introduced, or more than likely introduced, the songs Previn wrote for a variety of movies in the 1950s/1960s to a very appreciative audience.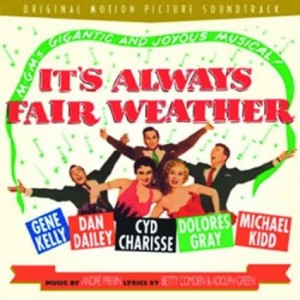 The evening began with Jeffrey Christopher Todd and Tyler Matthew Burk singing the jaunty "Camaraderie" from the Previn/Johnny Mercer musical The Good Companions, whose only major production was in London in 1974. Laura Dickinson later performed the manic "Stage Struck" from the same show, which Kimmel informed us starred John Mills and Judi Dench among other Brits. Kimmel's deep background on the songs, the films, the whole milieu are a major factor in what makes Kritzerland shows special. Kimmel informed us it was the MGM music unit that first paired Previn with lyricist Dory Langan to write the song "Yes" for a film. She soon married the composer and changed her name to the better known Dory Previn. Here it was sung by Jill Marie Burke who returned later to deliver a bluesy rendition of "A Second Chance," the Oscar nominated song from the Shirley MacLaine/Robert Mitchum film Two for the Seesaw. Burke also belted out the anthem "You're Gonna Hear from Me," written for the Natalie Wood film Inside Daisy Clover.

Adrienne Visnic brought down the house when she appeared in her tight black slacks and sweater and shades and delivered the beatnik infused "put-together" of "Like Young/Like Love." Hip, baby, real cool! Visnic later displayed her versatility with her sizzling, sultry take on "Thanks a Lot, But No Thanks" from It's Always Fair Weather. She also did a beautiful job with the haunting theme from Valley of the Dolls. Jeffrey Christopher Todd returned to the stage channeling his inner Ann-Margaret as he hip swayed his way through "The Swinger" from the infamous Ann-Margret film of the same title. Todd also sang a "put together" of "Let's Go Home" and "Coco" from the Broadway musical.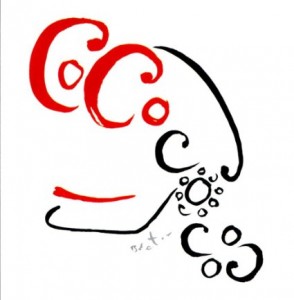 Tyler Matthew Burk sang "The Easy Way," a song cut from the Valley of the Dolls film and he really sparkled with a rousing take on the Neeley O'Hara/Patty Duke "Give a Little More" from the same film. All that was missing in his performance was a necklace that wouldn't move no matter how much he did. Kimmel himself channeled his inner Judy Garland when he performed "The Faraway Part of Town," another Oscar nominated tune by the Previns, this time from the film Pepe. Laura Dickinson did a beautiful job with a song even this movie buff had never heard—"More in Love with You." Barbra Streisand got her friends Marilyn & Alan Bergman to contribute lyrics to Previn's poignant theme from the 1962 film The Four Horsemen of the Apocalypse when she recorded her movie album in 2003 and Dickinson's delivery was pure nirvana. The red haired Dickinson ended the evening by channeling the fiery red haired movie star Susan Hayward and delivering the rousingly incongruent "I'll Plant My Own Tree" from Valley of the Dolls.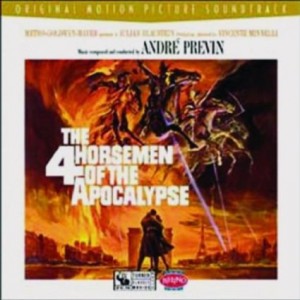 Pianist Tom Griep provided masterful accompaniment throughout, making Previn's music sound really symphonic. If you missed this latest Kritzerland, you missed one of the best I have seen in the nearly two years I've been attending. Next up will be a Fifth Anniversary Celebration with Jason Graae, Sharon McKnight, Sammy Williams and a cast of thousands. Well maybe not quite that many but more than usual. Reservations at 800-838-3006 ext. 1.