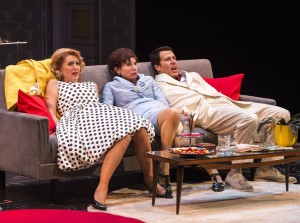 Elyse Mirto, Jill Hill and Jonathan Bray (all photos by Craig Schwartz)
A very knowledgeable critic and dear friend, the late Viola Heygi Swisher, was the Los Angeles reviewer for the glossy arts magazine After Dark in the 1970s/1980s. Her review of a dreadful new comedy we happened to see together at the Callboard Theatre has always stuck in my mind. Besides the title of the show, now long forgotten, the review in its entirety read "there were five doors on stage; it must have been a farce." The first thing I noticed when entering A Noise Within's space in Pasadena were the five doors in Fred Kinney's well-appointed 1950s scenic design. That was to be expected since the offering was a new version of Georges Feydeau's classic farce of marital and extra-marital shenanigans, A Flea in Her Ear.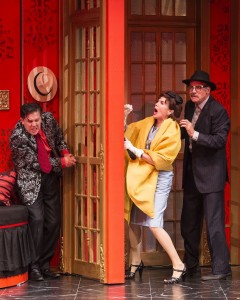 Rafael Goldstein, Jill Hill and Geoff Elliott
Victor Emmanuel Chandebise (Geoff Elliott) has not been as amorous in the marriage bed of late as he always has been. His wife Raymonde (Elyse Mirto) suspects he is having an affair, especially when a pair of his suspenders is returned by mail from the notorious Frisky Puss Hotel. She enlists her best friend Lucienne (Jill Hill) to write an anonymous letter to her husband from an ardent admirer, inviting him to meet her at the hotel later that day. Raymonde plans to visit the hotel and catch him in the act. When Victor receives the invite, he declines but tells his roué friend Tournel (Jonathan Bray) to take his place. Unbeknown to any of them is that fact that Victor's nephew Camille, (Rafael Goldstein) has been using his uncle's name at the hotel to rendezvous with randy maid Antoinette (Alison Elliott), whose husband Etienne (Alan Blumenfeld) is jealous and suspicious. Also suspicious of his wife is the fiery Spaniard Don Carlos Homenides de Histangua (Luis Fernandez-Gil). Needless to say they all end up at the hotel and chaos ensues with mistaken identities and intentions galore, compounded by the fact that the hotel's bellboy, Poche, is a doppelganger for Victor.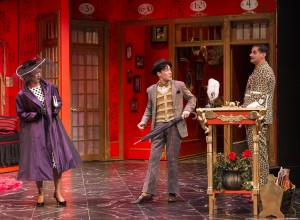 Elyse Mirto, E.K. Dagenfield and Jeremy Rabb
I saw A Flea in Her Ear in a wonderful production at the Mark Taper Forum in 1982 and remember it fondly. However the current production at A Noise Within uses a new "translaptation" by playwright David Ives. He's modernized the dialogue and sets the action in 1950s Paris. But instead of just letting "the farce be with us," he forces the farce upon us. The dialogue, situations and physical comedy all feel enforced to the max. The cast is talented and give their all and Julia Rodriguez-Elliott's direction keeps the action flowing swiftly but this viewer seldom laughed. It was like watching a puppet show where the strings were way too obvious to enjoy the theatricality of the endeavor. The audience seemed to enjoy the slapstick nature of the piece. Jill Hill fared well as sort of an Ethel Mertz to Mirto's scheming Lucy. Alan Blumenfeld pulled double duty in drag as Olympia, a former prostitute now the wife of Ferraillon (Jeremy Rabb), the militaristic hotel manager. Angela Calin's period costumes were bright and colorful.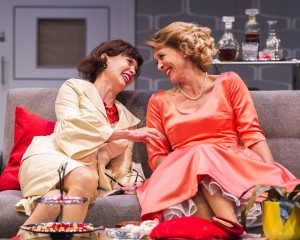 Jill Hill and Elyse Mirto

A Noise Within, 3352 E. Foothill Blvd. in Pasadena. Ends Nov. 22. 626-356-3100 ext. 1 or www.anoisewithin.org